HMCS Assiniboine
Index of Allied warships during Operation Neptune
History, technical sheet and photo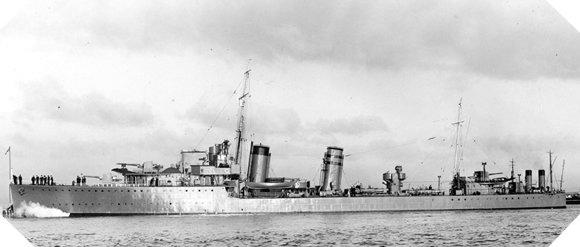 HMCS Assiniboine history
The Cowes shipyard in Great Britain launched a Class C destroyer on 29 October 1931, which was named "HMS Kempenfelt" (I18) by the Royal Navy. Before the Second World War broke out in Europe, this warship was sold to Canada, but it was not de facto transferred until October 19, 1939, because of a collision that involved a series of repairs. The Royal Canadian Navy then renamed it "HMCS Assiniboine".
It was immediately transferred to Caribbean waters in order to patrol this area and along the American coasts against the possible intervention of German submarines or warships. On the night of 8-9 March 1940, it captured the MV Hannover near Puerto Rico. HMCS Assiniboine subsequently conducted a series of convoy escorts and patrols. On August 6, 1942, it engaged at very short range the U-210 submarine which, after a violent duel, sank. Hit during this fight, the Canadian destroyer had to be repaired for two months.
Engaged in the waters of the English Channel in the spring of 1944 and following several maintenance programs, it was integrated into Task Force J in order to protect the allied armada from possible intrusions of enemy submarines during Operation Overlord.
It was not until June 1945 that HMCS Assiniboine returned to Canadian territorial waters. A month later, on July 4, its career was over and it was scrapped in 1952 after several unsuccessful attempts to restore navigation.
HMCS Assiniboine history
Creator: Great-Britain
User: Canada
Denomination: I 18 – H.M.C.S. Assiniboine
Class: C-class destroyer
Crew: 145 sailors
Armament (1944): 4x 120 mm guns, 1x 76,2 mm gun, 2x antiaircraft 40 mm pom-pom guns, 6x anti-submarine grenade, 8x 533 mm torpedo tubes
Displacement: 1,932 tons
Speed: 36 knots
Length: 100,3 m
Beam: 10,1 m
Draught : 3,8 m