HMS Ajax
Index of Allied warships during Operation Neptune
History, technical sheet and photo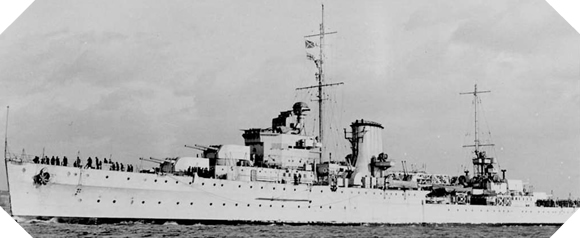 HMS Ajax history

After the First World War, as part of the program to modernize British maritime capabilities, British shipbuilding was commissioned by several light cruisers, including those of the Leander class launched in the 1930s. HMS Ajax was launched in November 1934.
It participated in the battle of the Rio de la Plata before being deployed in the Mediterranean with the Force H until May 1943. Modernized in the United States, it made its way to England in May 1944 and served within Force G to Gold Beach.
On June 6, 1944, HMS Ajax bombarded the battery at Longues-sur-Mer and took part in the disarming of two of its 150 mm guns and the destruction of a third, destroyed by a direct hit. In the days that followed, this light cruiser supported the Anglo-Canadian land forces. On 13 June it was transferred to Task Force S in front of Sword Beach and remained in the area until 27 June.
HMS Ajax was then deployed in the Mediterranean sea to support Operation Dragoon, the landing of Provence, with Task Force 84.
HMS Ajax technical sheet

Creator/User: Britain
Denomination: H.M.S. Ajax
Class: Leander-class light cruiser

Crew: 550 sailors
Armament (1944): 8x 152 mm guns, 8x 102 mm guns, 16x 40 mm guns, 8x torpedo tubes of 533 mm
Displacement: 9,740 tons
Speed: 32,5 knots
Length: 169 m
Beam: 16,8 m
Draught: 5,8 m