HMS Albrighton
Index of Allied warships during Operation Neptune
History, technical sheet and photo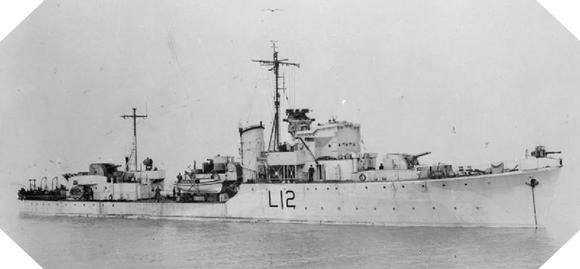 HMS Albrighton history
HMS Albrighton was launched on 11 October 1941 as part of the emergency weapons program adopted by Great Britain. After sea trials, it joined the Home Fleet in charge of the defense of the British coasts.
In March 1942, the Albrighton participated in the famous raid against the port facilities of Saint-Nazaire as part of Operation Chariot before resuming its patrol and escort missions in the English Channel. At the beginning of August, it is preparing to be engaged during Operation Jubilee, which takes place off Dieppe. It is slightly damaged by direct enemy shots and goes to the rescue of HMS Berkeley sailors.
In November 1942, it escorted convoys to North Africa during Operation Torch and returned to patrol the English Channel in December.
Beginning in February 1944, HMS Albrighton began its conversion into a command ship to take part in Operation Overlord off Normandy. It then joined the Task Force G (which operated off Gold Beach) as the flagship of the third G3 assault group commanded by Captain George Verner Motley Dolphin. The destroyer remained in the Bay of Seine until August and then resumed patrol missions in the English Channel.
In January 1945, new work was done to restore HMS Albrighton's original role as an escort destroyer. In December it was placed in reserve in Plymouth. It was transferred to the navy of the Federal Republic of Germany in 1959 under the new name of Raule, and trained in anti-submarine warfare until 1968 before being sold to a scrap dealer the following year at Bream.
HMS Albrighton technical sheet
Creator/User: Great-Britain
Denomination: L 12 – H.M.S. Albrighton
Class: Hunt Type III-class escort destroyer
Crew: 168 sailors
Armement (1944) : 4x 101,6 mm Mk VI guns, 4x four-barrel anti-aircraft Mk VIII pom-pom 40 mm guns, 2x Oerlikon Mk III 20 mm guns,110 anti-submarine grenades
Displacement: 1,458 tons
Speed: 27 knots
Length : 85,3 m
Beam: 10,16 m
Draught : 3,51 m