HMS Belfast
Index of Allied warships during Operation Neptune
History, technical sheet and photo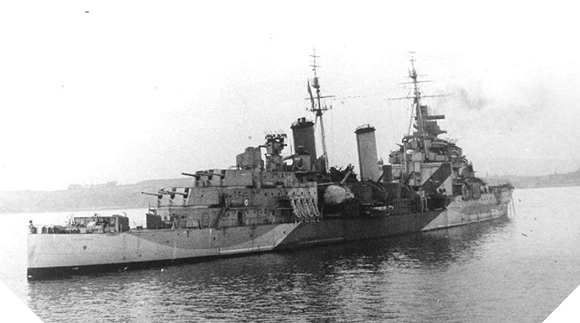 HMS Belfast history

After the First World War, as part of the program to modernize British maritime capabilities, British shipbuilding was commissioned by several light cruisers, including those in the Town class launched in the 1930s. HMS Belfast was launched on 17 March 1938.
When the Second World War broke out in Europe, the Germans quickly dispersed a large quantity of underwater mines in the English Channel, and one of them, magnetic, destroyed the stern of HMS Belfast. For nearly two years, the ship underwent major repairs and had to be immobilized. The British took advantage of this opportunity to reinforce its armaments, its protection and its sonar system.
The warship returned to active duty in November 1942 only. Deployed to escort convoys in the Arctic, it participated in the Battle of North Cape.
| | |
| --- | --- |
| | HMS Belfast opens fire on German positions on 6 June 1944. Photo: IWM |
Under the command of Captain Parham during Operation Neptune, which began on June 5, 1944, HMS Belfast was used as a flagship for the Eastern Task Force. It bombarded the German batteries of Ver-sur-Mer at dawn on D-Day and it supported the Anglo-Canadian land forces in the region of Caen for the following days until 8 July 1944, at the occasion of Operation Charnwood.
HMS Belfast then returned to Great Britain in the port of Plymouth to be renovated and to be re-armed. Early June 1945, it was deployed to the Far East.
HMS Belfast dropped anchor for the last time of its career in London, in the Thames river near the London Bridge where it can be visited today.
HMS Belfast technical sheet

Creator/User: Britain
Denomination : H.M.S. Belfast
Class: Town-class light cruiser
Crew: 748 sailors
Armament (1944): 12x 152 mm guns, 8x 102 mm guns, 12x 40 mm Bofors guns, 16x 37 mm pom-pom guns, 8x 12,7 mm machine guns and 6x 533 mm torpedo tubes
Displacement: 11,350 tons
Speed: 32 knots
Length: 187 m
Beam: 21 m
Draught: 6,1 m