HMS Bleasdale – L 50
Index of Allied warships during Operation Neptune
History, technical sheet and photo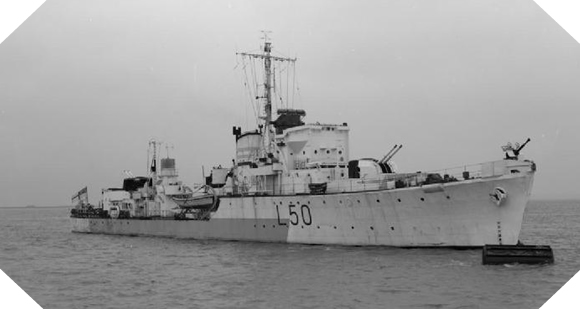 HMS Bleasdale history
The HMS Bleasdale was launched on July 31, 1941, following the emergency weapons program adopted by Great Britain. After sea trials, it joined the 1st fleet of destroyers belonging to the Home Fleet in charge of the defense of the British coasts.
In July 1942, it was preparing to be deployed during Operation Jubilee in Dieppe: slightly damaged by direct enemy shots during the escort of the landing craft, it subsequently resumed his patrol missions in the English Channel.
In November 1942 it escorted convoys to North Africa during Operation Torch and then returned to patrol in the English Channel in December.
Beginning in February 1944, HMS Bleasdale began a series of exercises to prepare for Operation Neptune. In April, it is slightly damaged during one of them in Lyme Bay. Deployed within Task Force J, and more specifically Bombarding Force E under command of the Rear Admiral Frederick Dalrymple-Hamilton. It took part in Exercise Fabius, which began on May 2, 1944 and which was a rehearsal for Operation Neptune.
On the night of June 5-6, 1944, HMS Bleasdale escorted the J10 convoy to Juno Beach. At the dawn of D-Day, it participated in the bombardment of the beach among the Support Force E and then escorted until September the warships and the convoys that traveled to England to refuel.
In October 1944, it was integrated into the 21st fleet of destroyers deployed in the North Sea and the English Channel in order to carry out multiple missions of patrol and escort.
After a repair campaign, HMS Bleasdale was deployed in the Mediterranean sea from May 1945 to the fleet within the 18th destroyers fleet. In August of the same year, HMS Bleasdale was deployed in Southeast Asia to participate in Operation Zipper, off Malaysia. The destroyer then participated in the armistice ceremony of the Japanese at Port Swettenham before sailing off the Indian coasts and then being placed in reserve at Chatham. In February 1946, HMS Bleasdale returned to service with the Nore Local fleet until 1952. During this period, it participated in the destruction of German fortifications on the Heligoland Islands in April 1947.
The Bleasdale was finally sold on September 12, 1956 to be scrapped.
HMS Bleasdale technical sheet
Creator/User: Great-Britain
Denomination: L 50 – H.M.S. Bealsdale
Class: Hunt Type III-class escort destroyer
Crew: 168 sailors
Armament (1944): 4x 101,6 mm Mk VI guns, 4x 40 mm quad-tube anti-air Mk VIII pom-pom guns, 2x 20 mm Oerlikon Mk III guns, 110 underwater grenades
Displacement: 1,458 tons
Speed: 27 knots
Length: 85,3 m
Beam: 10,16 m
Draught : 3,51 m