HMS Dacres
Index of Allied warships during Operation Neptune
History, technical sheet and photo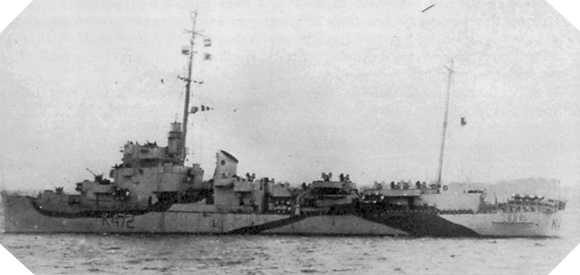 HMS Dacres history
This frigate was launched on 7 April 1943 in the United States and entered service on 19 May of the same year under the name USS Duffy (DE-268) of the class of destroyers Evarts. it was transferred to the British Royal Navy on 28 August under the Lend-Lease agreements between Washington and London, then renamed HMS Dacres.
Early in his career, it carried out escorts of convoys missions in the Atlantic within the B4 Escort Group, then it joined the Assault Group S.2 to participate in Operation Neptune off Sword Beach. One of its 76 mm guns was then removed, in particular to allow senior officers to settle down, while four 20 mm guns were added.
After the Battle of Normandy, the Dacres began a series of patrols in the English Channel, which continued until August. Back in Britain, it returned to its classic configuration in armaments and then joined the 10th escort group that was hunting German submarines.
Employed in the 15th escort group in April 1945 for one month, it was placed in reserve before returning to the United States on 26 January 1946. The Dacres was finally sold on 14 December to be scrapped.
HMS Dacres technical sheet
Creator/User: Great-Britain
Denomination: H.M.S. Dacres
Class: Hunt Type II-class escort destroyer
Crew: 164 sailors
Armament (1944): 6x 101,6 mm guns, 4x 40 mm anti-aircraft guns, 2x 20 mm guns
Displacement: 1,450 tons
Speed: 27 knots
Length: 85,3 m
Beam: 9,6 m
Draught : 2,51 m