HMS Kelvin 
Index of Allied warships during Operation Neptune
History, technical sheet and photo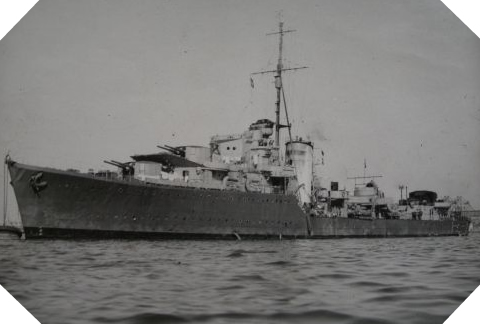 HMS Kelvin history
The HMS Kelvin was launched on 19 January 1939 and entered service on 27 November of the same year. As part of the 5th squadron of destroyer in September 1940, it escorted convoys in the English Channel and the Mediterranean Sea and participated in numerous engagements.
It supported the landing of British troops in Crete on 16 April 1942 as part of Operation Lighter and continued its escort and patrol missions in the Mediterranean Sea until the spring of 1944 when the Kelvin regained British territorial waters in order to participate in Operation Neptune.
Assigned to Task Force D, it was tasked at dawn on 6 June 1944 to bombard the German positions in the area of ​​Sword Beach. It had the honor having on board Prime Minister Winston Churchill who visited the Norman front on June 12, 1944, and to participate in the meetings of the Chiefs of Staff.
After operations in the Channel, the Kelvin returned to the Mediterranean Sea (especially in the Aegean Sea) until November 1944. After the war, it was finally sold on 6 April 1949 to be scrapped.
HMS Kelvin technical sheet
Creator/User: Great-Britain
Denomination: F 37 – H.M.S. Kelvin
Class: K-class destroyer
Crew: 183 sailors
Armament (1944): 6x 120 mm guns, 12x 40 mm anti-aircraft guns, 8x Vickers 12,7 mm machine guns, 10x 533 mm torpedo tubes
Displacement: 1,690 tons
Speed: 32 knots
Length: 108,66 m
Beam: 10,9 m
Draught : 3,7 m