HMS Mauritius
Index of Allied warships during Operation Neptune
History, technical sheet and photo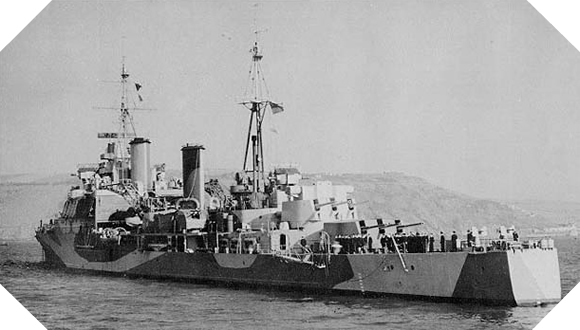 H.M.S. Mauritius history

The light cruiser C80 H.M.S. (Her Majesty Ship) Mauritius, launched on March 31, 1938 on the eve of the Second World War, entered service on January 4, 1940. Used to escort convoys across the Atlantic, it also served within the Home Fleet to ensure the security of British maritime space.
At the end of 1941 until April 1943, it served in Southeast Asia before joining the Mediterranean sea. Mauritius took part in the amphibious operations in Sicily (Operation Husky) and also participates in the landing of Salerno. Deployed in the Bay of Biscay to fight against the German convoys as part of Operation Stonewall, it took part in the landing of Anzio in January 1944.
Transferred to the English Channel in the spring of that same year, HMS Mauritius was deployed within the D force as part of Operation Neptune, operating off Sword Beach. In the days following the beginning of the Battle of Normandy, it supported the advance of the Commonwealth land forces in the Caen area by fire, particularly on July 18th during Operation Goodwood. It then patrolled along the coasts of Brittany and sank several German ships during the night of August 14 to 15 (Sperrbrecher 157) and in the night of August 22 to 23 (five Vorpostenboote).
Back in the United Kingdom, it carried out raids along the Norwegian coast and, during the night of 27-28 January 1945, it seriously damaged the German destroyer Z31.
Deployed after the war in the Mediterranean waters, HMS Mauritius was modernized and resumed service in 1949 within the 1st squadron of battleships. In the following years, it was deployed in South-East Asia and the Indian Ocean before being placed in reserve from 1952 to 1965. Finally, it was scrapped in March 1965.
H.M.S. Mauritius technical sheet

Creator/User: Britain
Denomination: C 80 – H.M.S. Mauritius
Class: Crown Colony-class light cruiser
Crew: 920 sailors
Armament (1944): 12x 152 mm guns, 8x 102 mm guns, 12x 40 mm anti-aircraft guns, 6x 533 mm torpedo tubes
Displacement: 10,450 tons
Speed: 31,5 knots
Length: 169,3 m
Beam: 18,9 m
Draught: 6 m