HMS Nelson
Index of Allied warships during Operation Neptune
History, technical sheet and photo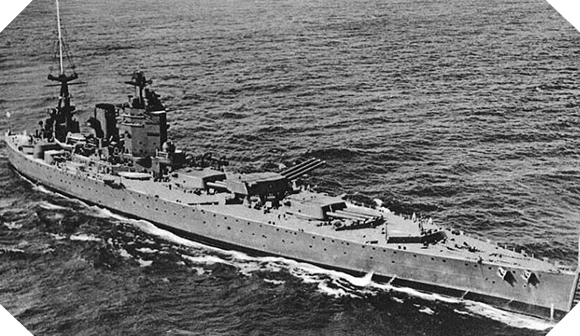 HMS Nelson history
After the First World War, as part of the program to modernize British maritime capabilities, British shipbuilding was commissioned by several battleships of the Queen Elizabeth class, of which HMS Nelson was part of the HMS Rodney sistership.
These warships entered active service in the late 1920s. The main innovation introduced by these ships resides in the position of their main armament, located at the front and thus resulting in a better concentration of shots.
When World War II broke out, HMS Nelson (then assigned to the Home Fleet) patrolled along the coasts of England where he hit a mine. After the repairs, it is deployed in the Mediterranean where an Italian torpedo seriously damages it. If it is to be repaired for nearly two years, it nevertheless manages to participate in the Torch and Husky operations, still in the Mediterranean, and it is on board that the armistice between the allied countries was signed on 29 September 1943 And Italy.
Returning to the Channel in 1944, HMS Nelson is placed in reserve of the Allied fleet and then engages the German batteries distributed along the Normandy coasts. On 11 June, he silenced Houlgate's battery, destroying his last two 155 mm pieces. Subsequently, he participated in the bombing of support for Anglo-Canadian forces in the area of ​​Caen, Tilly-sur-Seulles and Hottot-les-Bagues.
On his way to Portsmouth to be refueled, he was hit by an acoustic mine on 18 June. It is then taken into account by the Americans who decide to modernize it.
HMS Nelson technical sheet
Creator/User: Britain
Denomination: 28 – H.M.S. Nelson
Class: Queen Elizabeth-class battleship
Crew: 1,360 sailors
Armament (1944): 9x 406 mm  guns (3 triple turrets), 12x 152 mm guns, 6x 120 mm guns, 48x 37 mm anti-aircraft guns, 61x 20 mm guns
Displacement: 38,000 tons
Speed: 23,5 knots
Length: 220 m
Beam: 32 m
Draught: 10 m