HMS Orion
Index of Allied warships during Operation Neptune
History, technical sheet and photo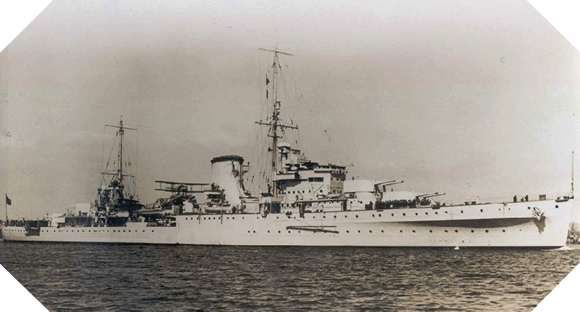 HMS Orion history

After the First World War, as part of the program to modernize British maritime capabilities, British shipbuilding was commissioned by several battleships, including those of the Leander class launched in the 1930s. HMS Orion was launched in November 1932.
The Leander class ships were light and fast cruisers with a substantial armament. Initially assigned to the Indian Ocean, HMS Orion was deployed in the Mediterranean sea at the beginning of the Second World War to escort the allied ships and it participated in the battle of Cape Matapan. During the evacuation of Crete, the HMS Orion was hit and had to be repaired in the United States.
Once again active in 1943, it participated in Operation Neptune on June 6, 1944 in Force G, which headed for Gold Beach and bombarded the Mont-Fleury battery. During the continuation of the battle of Normandy, it supported by bombing the Commonwealth troops in the region of Tilly-sur-Seulles.
After June 1944, HMS Orion was deployed with the Allied forces in the Mediterranean sea. It left the service in 1947 and was sold for demolition on July 19, 1949.
HMS Orion technical sheet

Creator/User: Britain
Denomination: H.M.S. Orion
Class: Leander-class light cruiser
Crew: 680 sailors
Armament (1944): 6x 152 mm guns, 4x 102 mm guns, 12x 12,7 mm machine guns, 4x 530 mm torpedo tubes
Displacement: 9,740 tons
Speed: 32,5 knots
Length: 169 m
Beam: 17 m
Draught: 5,8 m