HMS Ulster – R83
Index of Allied warships during Operation Neptune
History, technical sheet and photo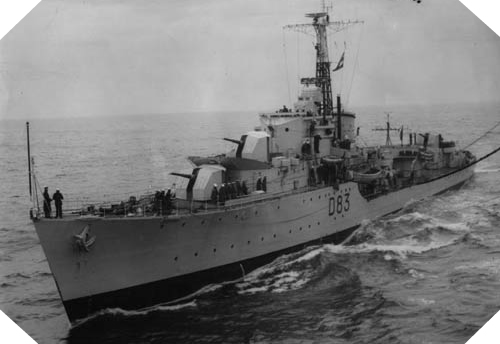 Historique de l'HMS Ulster
This U-class destroyer was launched on November 9, 1942, and entered active service on June 30, 1943. It was named HMS Ulster (chronologically the third Royal Navy ship bearing this name), and began its career by operating in the English Channel and the North Sea for patrols and escorts of convoys heading to the Soviet Union.
As of November 1943, it is deployed in the Mediterranean Sea. On January 22, 1944, it participated in the battle of Anzio before returning to the English Channel in May to prepare Operation Overlord. It then joined the Bombarding Force K, which was subordinated to Task Force G. Ulster was given the task of escorting the G14 convoy across the English Channel during the night of June 5-6, 1944, to Gold Beach. On D-Day, it participated in the fire support of the allied troops until June 9, when it ran aground during shooting.
Repaired to Cardiff until July, it resumed service by patrolling across the English Channel before being deployed to the Far East as of March 1945. HMS Ulster joined Task Force 57 and then Task Force 58 with the 5th American fleet and participated in numerous operations (notably Iceberg One, which was carried out in support of the landing in Okinawa). On 1 April, it was hit by a bomb dropped by a Japanese Zeke aircraft, killing two crew members and causing extensive damage.
Repaired to Australia and then to Great Britain, it went back to duty in 1946, mainly for the benefit of instruction (notably that of the English cadets). In 1952, Ulster was placed in reserve and began a phase of conversion into an anti-submarine frigate: once again operational in 1956, it joined the 8th frigate squadron. After a short passage in reserve in 1964, it resumed service the following year in the 2nd squadron of frigates.
In 1967, the frigate was definitively withdrawn from operational service and was used to test new equipment and crew training. It was sold on August 4, 1980 to be scrapped.
HMS Ulster technical sheet
Creator/User: Great-Britain
Denomination: R 83 – H.M.S. Ulster
Class: U-class destroyer
Crew: 180-225 sailors
Armament (1944): 4x 120 mm guns, 2x 40 mm anti-aircraft guns, 6x 20 mm Oerlikon anti-aircraft guns, 8x 533 mm torpedo tubes
Displacement: 2,091 tons
Speed: 37 knots
Length: 111 m
Beam: 10,87 m
Draught : 3 m