HMS Ulysses – R69
Index of Allied warships during Operation Neptune
History, technical sheet and photo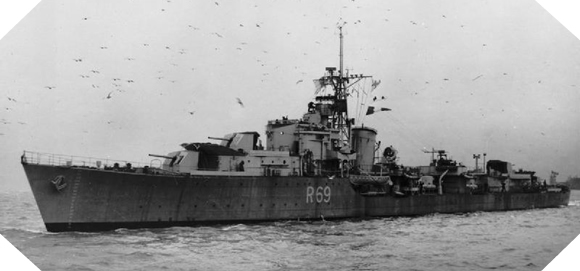 HMS Ulysses history
This S-class destroyer was launched on 22 April 1943 and entered active service on 23 December of the same year. Called HMS Ulysses (chronologically the 2nd warship of the Royal Navy to bear this name), it is integrated in the 25th fleet of destroyers operating in the waters of the English Channel and the North Sea. It carried out several patrols and escorts of convoys heading to the Soviet Union.
In May 1944, as part of the preparation for Operation Overlord, it joined the Bombarding Force K, itself subordinated to Task Force G. HMS Ulysses escorted the G9 convoy across the Channel on the night of 5 June 6, 1944 heading for Gold Beach. On D-Day, it participated in the fire support of the English troops.
From 7 June to the following month, it patrolled in the Bay of Seine and across the Channel while occasionally pursuing its fire support mission to the benefit of ground forces.
Refurbished in England from November 1944 to February 1945, HMS Ulysses is deployed in June in the Pacific to Task Force 57 of the US 3rd Fleet (temporarily receiving Marker D24 in order to simplify the identification between warships). It joined Task Force 37 and participated in several operations against the Japanese forces.
In August 1945, following a temporary shortage of fuel, the destroyer was removed from operations and went back under the command of the Royal Navy. It was deployed in the Channel in 1946 and was placed in reserve in March. Transformed into an anti-submarine frigate type 15 in 1953, it joined the 6th frigate squadron and participated in nuclear tests in the Pacific in 1958. It was finally placed in reserve in 1963 and was sold for scrap metal in October 1969.
HMS Ulysses technical sheet
Creator/User: Great-Britain
Denomination: R 69 – H.M.S. Ulysses
Class: S-class destroyer
Crew: 180 sailors
Armament (1944) : 4x 120 mm guns, 2x 40 mm anti-aircraft guns, 8x 20 mm anti-aircraft guns, 8x 533 mm torpedo tubes
Displacement: 1,737 tons
Speed: 36,75 knots
Length: 110,57 m
Beam: 10,87 m
Draught: 4,32 m