HMS Waveney – K 248
Index of Allied warships during Operation Neptune
History, technical sheet and photo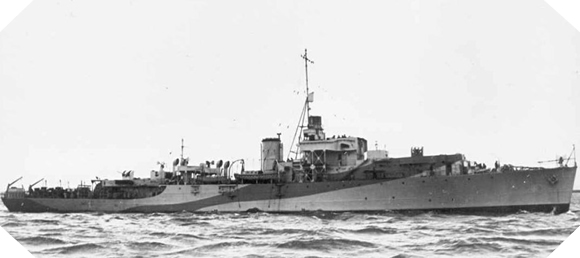 HMS Waveney history
This river-class frigate was launched on April 30, 1942 and entered active service on September 16 of the same year. Named HMS Waveney, it was deployed in the Atlantic Ocean within the 40th escort group to protect Allied convoys throughout 1943.

Renovated from January to March 1944 in order to be able to embark a staff, HMS Waveney integrated Task Force J as part of the preparation for Operation Overlord. It received the command team of Assault Group J2 headed by Captain Otway-Ruthven and crossed the English Channel during the night of June 5-6, 1944 within the J10 convoy to Juno Beach. On D-Day, it participated in the landing of the 8th Infantry Brigade on the Nan Red and Nan White sectors between Bernières-sur-Mer and Saint-Aubin-sur-Mer. HMS Waveney remained in position until July 1944.
In December, after a preparatory phase, this frigate was deployed until the end of the Second World War in the Indian Ocean as an embarked staff during amphibious phases, notably off Malaysia.
Returning to the United Kingdom, HMS Waveney was retired from active service and sold in 1957: on 9 November 1957, the frigate was scrapped at Troon.
HMS Waveney technical sheet

Creator/User: Britain
Denomination: K 248 – H.M.S. Waveney
Class: River-class frigate

Crew: 107 sailors
Armament (1944): 2x 101,6 mm guns, 10x 20 mm Oerlikon anti-aircraft guns, 150x anti-submarines grenades
Displacement: 1,860 tons
Speed: 20 knots
Length: 91,82 m
Beam: 11,13 m
Draught: 2,74 m