HNLMS Flores
Index of Allied warships during Operation Neptune
History, technical sheet and photo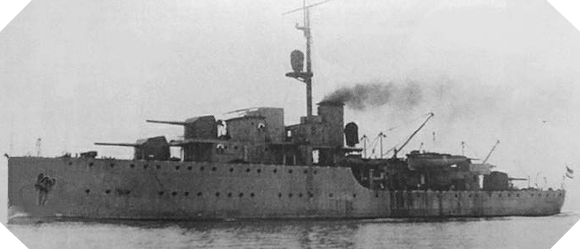 HNLMS Flores history
The HNLMS Flores was launched on August 15, 1925 and entered active service in the Dutch navy on March 25, 1926. With its sistership the Soemba, it is destined to be deployed in the Dutch Indies as naval sovereignty.
When the Second World War broke out in Europe and Holland was invaded by German forces, its crew made their way to England to continue the fight. It thus carried out several escort missions for the benefit of the Allies. Subsequently, the Flores was deployed in the Mediterranean Sea where it participated in amphibious operations in Sicily and mainland Italy. Perfectly suited to fill bombardments of terrestrial targets, it was used during the landings of Salerno, Anzio, Garigliano and Gaeta.
In March 1944, it was transferred to the English Channel as part of the preparation for Operation Neptune. On June 6, 1944, it bombarded the battery of Arromanches-les-Bains and neutralized its 75 mm guns. In the aftermath of the Battle of Normandy, it supported the advance of Anglo-Canadian land forces, particularly in the Hottot-les-Bagues and Tilly-sur-Seulles areas. Its guns were judged to be inoperable after multiple shots, they were thus replaced by those of the cruiser Sumatra. The HNLMS Flores resumed service on July 21, 1944 and returned to the Bay of Seine to participate in the pursuit of the bombings.
After the war, it was placed in reserve and was used by the Dutch Navy to carry out tests for new naval artillery pieces and then as a floating barracks. It was definitively retired from active service on 12 November 1968.
HNLMS Flores technical sheet
Creator/User: Netherlands
Denomination: H.N.L.M.S. Flores
Class: Sloop
Crew: 145 sailors
Armament (1944): 3x 150 mm guns, 1x 75 mm gun, 1x 40 mm pom-pom gun, 4x 20 mm Hotchkiss guns, 4x 12,7 mm Browning machine guns and 8x 7,7 mm machine guns
Displacement: 1,822 tons
Speed: 15 knots
Length: 75,6 m
Beam: 11,5 m
Draught : 3,6 m