Landing Craft Assault (LCA)
History, technical sheet and photo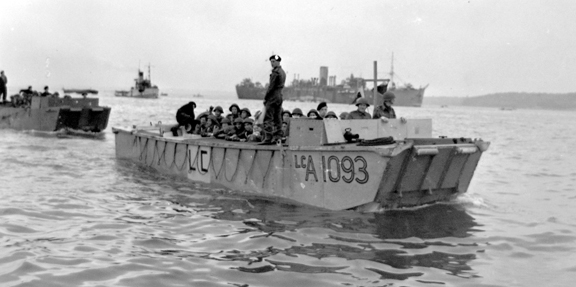 Landing Craft Assault – LCA history

The LCA (Landing Craft Assault) is the basic landing craft of the British Army. Drawn and produced in 1939, this craft is the English equivalent of the American LCVP and can contain between 30 and 35 soldiers according to their equipment and missions.
The shell – in plywood – has a flat bottom, which allows a docking nearest dry sand. Armor plates may be added to ensure good resistance to the landing craft. But because of its weight, speed is its weak point. It very rarely reaches the theoretical 8 knots.
Soldiers leave the LCA in the same way as the US LCVP, but before the landing crawl, the men must pass through a double-armored armored door that offers additional protection to its occupants.
The British LCA is widely used by British and Canadian troops during the Normandy landing, but also by the American Rangers during the assault of the Pointe du Hoc.

Landing Craft Assault – LCA specification

Creator/User: Britain
Denomination: LCA
Propulsion: two 65 hp Ford V-8 petrol
Transport capacity: 30 to 35 equipped soldiers
Armament: one Bren light machine gun or two Lewis machine gunes
Weight: 15,000 kg
Speed: 8 knots
Length: 12,50 m
Width: 10,10 m