USS Arkansas – BB 33
Index of Allied warships during Operation Neptune
History, technical sheet and photo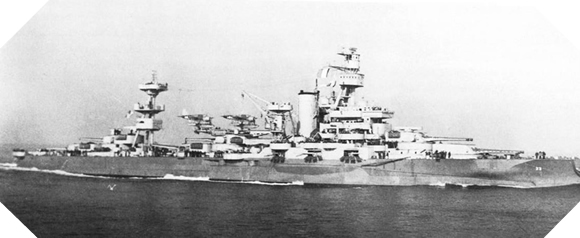 USS Arkansas history
Launched in 1911, USS Arkansas took part in the First World War. Already aging when the Second World War broke out, the role of this powerful battleship was initially confined to escort convoys crossing the Atlantic.
However, when the Allies launched their first amphibious operations, starting with Operation Torch in North Africa in November 1942, this battleship was systematically used by the Americans. Returning to the English Channel in April 1944, it was based in the port of Bangor (Ireland) before the start of Operation Neptune.
| | |
| --- | --- |
| | USS Arkansas bombarded the battery at Longues-sur-Mer on June 6, 1944. (Photo: US National Archives) |
Flagship of the American naval forces on June 6, 1944, it is at 3 600 meters of Omaha Beach on D-Day and bombard the battery of Longues-sur-Mer with its twelve pieces of 305 mm then supports of allied land forces During the first weeks of the Battle of Normandy, moving off Grandcamp-les-Bains from June 13th. This is particularly the case during the conquest of Cherbourg during which the battleship pounded the battery "Hamburg" on 25 June.
The USS Arkansas then participated in the landing of Provence and ended the Second World War in the waters of the Pacific.
In July 1946, it was used as a target during nuclear tests (Operation Crossroads) and was sunk on 25 July.
USS Arkansas technical sheet
Creator/User: United States of America
Denomination: BB 33 – U.S.S. Arkansas
Class: Wyoming-class battleship
Crew: 735 sailors
Armament (1944): 12x 305 mm guns, 16x 127 mm guns, 2x anti-aircraft 76 mm gun, 9x Bofors 40 mm guns, 26s Oerlikon 20 mm guns, 10x 12,7 mm Browning machine guns, 6x torpedo tubes of 533 mm
Displacement: 11,450 tons
Speed: 32,7 knots
Length: 183 m
Beam: 20,15 m
Draught: 5 m