USS barton
Index of Allied warships during Operation Neptune
History, technical sheet and photo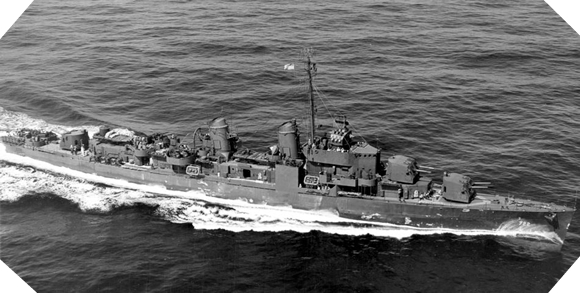 USS Barton history

The USS Barton was launched on 10 October 1943 and entered into service on 30 December of the same year. It was the second destroyer of the American Navy to be called Barton after the destruction of the DD 599 on November 13, 1942 by the Japanese destroyer Amatsukaze during the battle of Guadalcanal.
On May 14, 1944, the USS Barton left the port of Norfolk and made its way to Plymouth to participate in the amphibious operations in Normandy. On June 4, it saved the crew of LCT-2498 engaged in Operation Neptune and which was sinking in the English Channel.
On D-Day it participated in the naval fire support of the allied land forces landing on Utah Beach and then it took part in the Cherbourg bombardment on June 25, 1944, during which it was slightly damaged by German shells.
On July 10, it made its way to the United States before joining the Pacific, among the 5th Wing and then the 3rd Wing.
After the Second World War, USS Barton was deployed in the Pacific and off the coast of Korea within Task Force 77, a period during which it was damaged once again and lost several sailors. After several exercises and patrols, it witnessed the fighting of the Suez Canal in October 1956.
Placed in reserve in August 1968, it was permanently retired from service in September. On 8 October 1969, USS Barton was deliberately destroyed at sea during a U.S. Navy firing exercise.
USS Barton technical sheet

Creator/User: United States of America
Denomination: DD 722 – U.S.S. Barton
Class: Allen M. Sumner-class destroyer
Crew: 336 sailors
Armament (1944): 6x 130 mm guns, 12x 40 mm guns, 11x 20 mm anti-aircraft guns, 10x 533 mm torpedo tubes
Displacement: 2,200 tons
Speed: 34 knots
Length: 114,76 m
Beam: 12 m
Draught: 4,78 m