USS Ellyson
Index of Allied warships during Operation Neptune
History, technical sheet and photo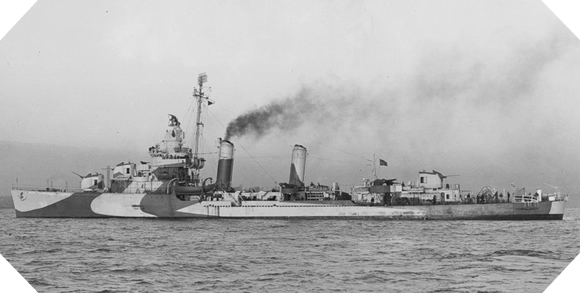 USS Ellyson history
The Ellyson was launched on 26 July 1941 and entered service on 28 November of the same year. Its first missions, carried out at the beginning of 1942, consisted of escorting convoys in the Atlantic. In November 1942, it took part in Operation Torch off Morocco.
In the spring of 1943 it was engaged alongside British destroyers in the English Channel and the North Sea before returning to the Mediterranean sea in July to take part in Operation Husky off Sicily. At the end of the year, it made its way to the United States coasts before joining Plymouth on 22 May 1944 in order to participate in Operation Neptune.
Along with USS Texas, it bombarded German positions in the area of ​​Pointe du Hoc and provided fire support to the American Rangers during the first days of the Battle of Normandy. On June 25 it participated in the bombardment of the batteries protecting the city of Cherbourg, also putting in place a smoke screen protecting the most important warships.
In August 1944, the USS Ellyson participated in the landing of Provence, south of France, before returning to the United States in November in order to be transformed into a rapid minesweeper. Engaged in the Pacific in January 1945, it participated in naval operations in the Okinawa area and watched helplessly as Japanese suicide bombers attacked the USS Emmons on 6 April. The next day, the Ellyson gets the heavy task of sinking this destroyer to prevent it from falling into the wrong hands.
After the Second World War it participated in training in the Caribbean and served in the 6th Wing in the Mediterranean Sea until 1953. The following year it was transferred under Japanese command as part of the Japanese Naval Defense Forces and was renamed Asakaze. The Japanese used it until 1970 and returned it to the United States which transfered it to Taiwan where it was scrapped.
USS Ellyson technical sheet
Creator/User: United States of America
Denomination: DD 454 – U.S.S. Ellyson
Class: Gleaves-class destroyer
Crew: 276 sailors
Armament (1944): 5x 127 mm guns, 6x 20 mm Oerlikon guns, 6x 12,7 mm Browning machine guns, 10x 533 mm torpedo tubes
Displacement: 1,630 tons
Speed: 37,4 knots
Length: 106,15 m
Beam: 11 m
Draught : 3, 61 m