USS Emmons
Index of Allied warships during Operation Neptune
History, technical sheet and photo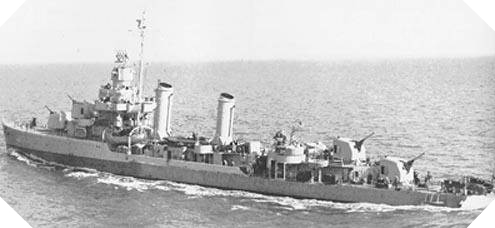 USS Emmons history
The Emmons was launched on 23 August 1941 and entered service on 5 December of the same year. It made his first missions along the coasts of South America and then in the Atlantic Ocean by carrying out a number of convoy escort missions.
It participated in the landing in North Africa as part of Operation Torch in November 1942 before returning to the United States. As of May 19, 1943, it assumed numerous missions of escorts for naval squadrons, as in the framework of the conference of Teheran. A year later, on May 18, 1944, the USS Emmons made its way to England to participate in Operation Neptune.
| | |
| --- | --- |
| | Painting of Dwight C. Shepler representing USS Emmons and USS Doyle in the background, June 6, 1944 in front of Port-en-Bessin. |
Engaged in the English Channel on the eve of D-Day, it opened the way to the allied armada by fighting against the threat of underwater mines. Also protecting the USS Texas, it dropped anchor in the early hours of June 6 off Omaha Beach. At dawn, it took part in the bombardment of the beach and in particular of the German positions in the Port-en-Bessin sector and the Wn 60 strongpoint, not hesitating to sail closer to the shore to provide effective fire support. On D-Day, it fired 914 127-mm rounds and 1,014 40-mm rounds.
| | |
| --- | --- |
| | Painting of Dwight C. Shepler representing the USS Emmons on June 6, 1944 in front of the Wn 60 and the Fox Green sector, Omaha Beach. |
The USS Emmons participated in the bombing of the city of Cherbourg on 25 June 1944 in the Task Force 129.
In August, it is engaged in the Mediterranean sea to participate in the landing of Provence, south of France. It returned to the United States in November to be transformed into a rapid minesweeper. In 1945 it was deployed to the Pacific and participated in the Battle of Okinawa. On 6 April, it was targeted by five Japanese suicide bombers which hit it simultaneously: 60 crew members were killed and 77 others were wounded. The Emmons is cast the next day by USS Ellyson to prevent it from being recovered by the opponent.
The exact location of the wreck was discovered in February 2001.
USS Emmons technical sheet
Creator/User: United States of America
Denomination: DD 457 – U.S.S. Emmons
Class: Gleaves-class destroyer
Crew: 276 sailors
Armament (1944): 5x 127 mm guns, 6x 20 mm Oerlikon guns, 6x 12,7 mm Browning machine guns, 10 tubes lance-torpilles de 533 mm
Displacement: 2,050 tons
Speed: 35 knots
Length: 106,15 m
Beam: 11 m
Draught : 4,78 m