USS Harding
Index of Allied warships during Operation Neptune
History, technical sheet and photo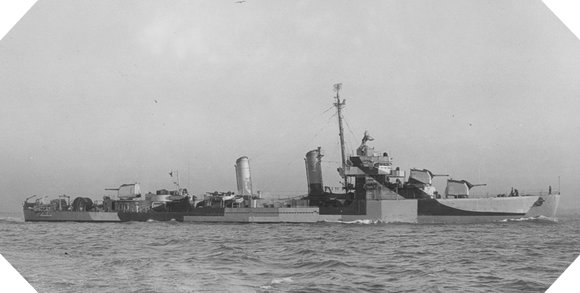 USS Harding history
The USS Harding was launched on June 28, 1942 and entered service on May 25, 1943. After a series of offshore training, it escorted convoys to the Atlantic for eight months before joining Britain in April 1944 to participate in Operation Neptune.
As part of the bombing force in the Omaha Beach area, it provided fire support to the US land forces as close to shore as possible throughout D-Day. It also sent a patrol boat at the foot of Pointe du Hoc to evacuated wounded Rangers and German prisoners. When the range of its guns was no longer sufficient to support the Allied troops, it focused on its task of protecting large warships until July 16, when it left the English Channel to reach the Mediterranean Sea.
USS Harding participated in the landing of Provence, south of France, and on the evening of August 17, when its crew was inspecting the debris of a German plane fallen at sea, it engaged four enemy torpedo boats and three sank. Taking the survivors aboard, it resumed its patrols in the days that followed.
Transformed into a rapid minesweeper in the United States, it was deployed the 10th of February 1945 in the Pacific and participated in the Battle of Okinawa. On 16 August, it was hit by a Japanese suicide bomber killing fourteen sailors, eight were missing and nine wounded. Repaired at Okinawa, it returned to Norfolk on 17 September and was retired from service on 2 November. The USS Harding was finally sold on April 16, 1947 to be scrapped.
USS Harding technical sheet
Creator/User: United States of America
Denomination: DD 625 – U.S.S. Harding
Class: Gleaves-class destroyer
Crew: 276 sailors
Armament (1944): 4x 127 mm guns, 4x 40 mm Bofors, 7x 20 mm Oerlikon guns, 6x 12,7 mm Browning machine guns, 5x 533 mm torpedo tubes
Displacement: 1,630 tons
Speed: 37,4 knots
Length: 106,15 m
Beam: 11 m
Draught : 3,61 m