USS Hobson
Index of Allied warships during Operation Neptune
History, technical sheet and photo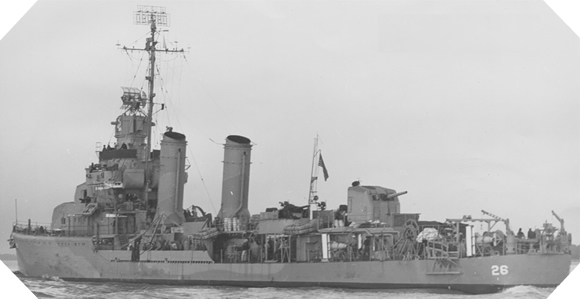 USS Hobson history
The USS Hobson was launched on 8 September 1941 and entered service on 22 January 1942. After a series of offshore training, it carried out escort missions in the Atlantic before joining Operation Torch in November 1942 off Morocco to protect the USS Ranger aircraft carrier.
It took over training in the Gulf of Mexico and escorted the RMS Queen Mary in July 1943 with Prime Minister Winston Churchill on its way to Quebec City in order to participate in the conference of the same name. In August it deployed in the North Sea under British command and escorted convoys to the Soviet Union. Back in US waters at the beginning of 1944, it attacked and sank the German submarine U-575.
On April 21, 1944, it joined Great Britain to participate in Operation Neptune. As part of the U-Force to Utah Beach, it reached its rendezvous point on June 6, 1944 at 1:40 am. At dawn, it bombarded the German positions and witnessed the destruction of USS Corry. When the German batteries were silenced, the Hobson could finally help the Corry crew two hours after the start of the drama.
After a quick refueling in Plymouth, it returned to the Normandy coast on June 8th and took part in the bombing of the defensive installations of the city of Cherbourg on June 25th.
On 15 August, the USS Hobson participated in the landing of Provence before returning to the United States in October to be transformed into a rapid mine sweep. Engaged in the Pacific from 24 February 1945, it participated in the Battle of Okinawa. On April 13, its squadron was attacked by many Japanese suicide bombers: it fired continuously on the enemy aircraft that fell on the surrounding warships. Rescued, the Hobson came to rescue the crews of ships like the USS Pringle.
After the war, it participated in exercises in the Caribbean which intensified with the beginning of the war in Korea. On April 26, 1952, while escorting the aircraft carrier Wasp in the Atlantic Ocean, the two warships collided 1,000 kilometers west of the Azores: the shock was such that the Hobson was cut in two parts and flows. The destroyer USS Rodman is helping the 52 survivors, some of whom have spent nearly four hours swimming in the water, but 176 crew members die as a result of this incident, including his commander, Lieutenant Commander W. J. Tierney.
USS Hobson technical sheet
Creator/User: United States of America
Denomination: DD 464 – U.S.S. Hobson
Class: Gleaves-class destroyer
Crew: 276 sailors
Armament (1944): 5x 127 mm guns, 6x 20 mm Oerlikon guns, 6x Browning 12,7 mm machine guns, 10x 533 mm torpedo tubes
Displacement: 1,630 tons
Speed: 37,4 knots
Length: 106,15 m
Beam: 11 m
Draught : 3,61 m