USS Maloy
Index of Allied warships during Operation Neptune
History, technical sheet and photo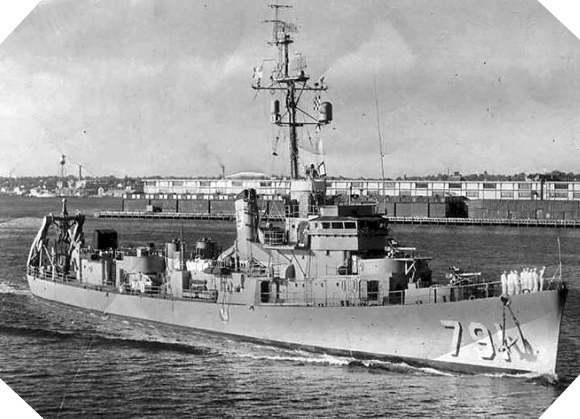 USS Maloy history
The USS Maloy was launched on 18 August 1943 and entered service on 13 December of the same year. After a series of training at sea, it escorted convoys along the American coasts and at the beginning of March 1944, it made his way to Northern Ireland to prepare for Operation Neptune.
On the night of June 5-6, 1944, it joined the naval force O and escorted the high-tonnage ships of war and transport ships to Omaha Beach. On D-Day, it participated in the bombing of German positions while ensuring the safety of high-tonnage warships against possible incursions of submarines and enemy torpedo boats. In the days following the Normandy landings, it opened fire on the coast to the benefit of US land forces, resupplying itself in Britain regularly. It operated off Cherbourg on 25 June and took part in the duels of artillery with the German batteries defending the deep water port.
After the battle of Normandy, it continued to operate in the English Channel until the signing of the armistice by Germany, then returned to the United States. After the Second World War, it tested new equipment and partnerships with training schools for the benefit of the US Navy while maintaining its operational character, being deployed off Cuba during the 1961 missile crisis. Retired from service on 28 May 1965, it was sold on 11 March 1966 for being scrapped.
USS Maloy technical sheet
Creator/User: United States of America
Denomination: DE 791 – U.S.S. Maloy
Class: Buckley-class escort destroyer
Crew: 186 sailors
Armament (1944): 3x 76 mm guns, 4x 28 mm guns, 8x antiaircraft 20 mm guns, 9x 533 mm torpedo tubes
Diplacement: 1,700 tons
Speed: 24 knots
Length: 93 m
Beam: 11 m
Draught : 4,11 m