USS Quincy
Index of Allied warships during Operation Neptune
History, technical sheet and photo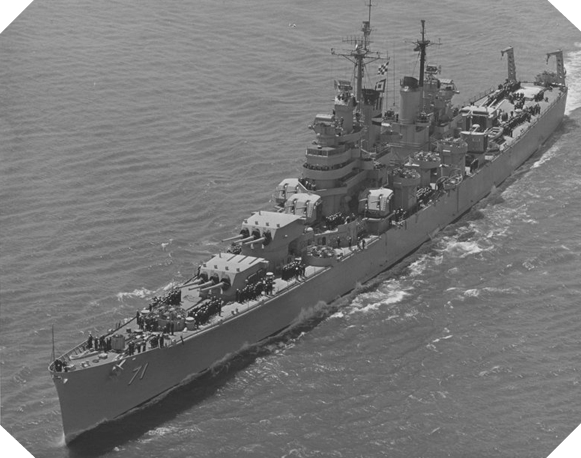 USS Quincy history

USS Quincy was launched on 23 June 1943 and entered into service on 15 December of the same year. Originally named St. Paul, it eventually takes the name of Quincy to commemorate another building sunk on August 9, 1942 during the Battle of the Island of Savo.
It served in the Caribbean and the Atlantic within the 12th Wing before joining the English Channel in the spring of 1944. It was visited by General Eisenhower and Admiral Alan Kirk in Belfast on 15 May and it participated in Operation Neptune, bombarding the German positions north of Utah Beach on 6 June 1944 as of 5.37 am. On June 6th and 7th, it fired at the German forces in the area of ​​Saint-Côme-du-Mont, supporting the 501st Parachute Infantry Regiment of the 101st Airborne Division.
From D-Day to June 17, the USS Quincy supported the advance of US land forces by fire and engaged the opposing batteries that sought to destroy the armada's ships, especially on 12 June during the Quineville conquest.
| | |
| --- | --- |
| | USS Quincy engaged by the batteries of Cherbourg on June 25, 1944. Photo: US National Archives |
After a refueling and quick maintenance in Portland on June 21, it was posted to Task Force 129 and took part in the bombing of the city of Cherbourg on June 25. At least August, it was engaged in the landing of Provence.
Returning to the United States on September 1st to be renovated and re-armed, it was visited by Winston Churchill and President Roosevelt. On February 14, 1945, Roosevelt and King Ibn Saud of Saudi Arabia signed aboard USS Quincy the agreements on US military assistance to the Saudis.
USS Quincy then took part in the fighting in the Pacific until the end of the Second World War. Used during the Korean War for the benefit of the United Nations, it was withdrawn from active service on 2 July 1954 and sold on 20 August 1974.
USS Quincy technical sheet

Creator/User: United States of America
Denomination: CA 71 – U.S.S. Quincy
Class: Baltimore-class heavy cruiser

Crew: 807 sailors
Armament (1944): 9x 203 mm guns, 8x 127 mm guns, 8x 12,7 mm machine guns
Displacement: 17,030 tons
Speed: 33 knots
Length: 205 m
Beam: 21,6 m
Draught: 6,25 m