USS Samuel Chase
Index of Allied warships during Operation Neptune
History, technical sheet and photo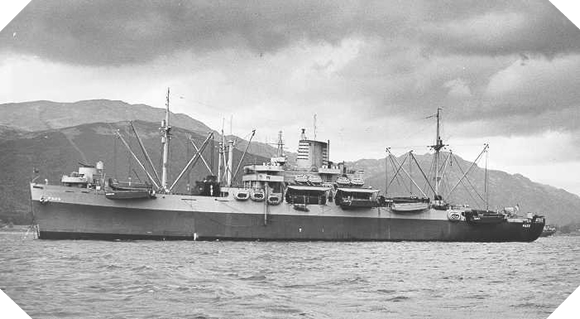 USS Samuel Chase history
The USS Samuel Chase was launched on 23 August 1941, a few months before the United States entered the war. It entered service on June 13, 1942. It participated as a troop carrier in the allied amphibious operations in the Mediterranean. Its first operation is that of Torch in North Africa, carried out in November 1942 before Algiers. Then came Operation Husky in Sicily, Operation Avalanche in Salerno before it being deployed in the English Channel in the spring of 1944.
Within the O-1 Assault Group for Omaha Beach as part of Operation Neptune, it transports units from the 1st American Infantry Division. After crossing the English Channel and docking off Normandy from 3:15 am, it took the men on board on June 6, 1944 (including photographer Robert Capa) to LCVP landing craft. These craft then return with wounded soldiers who are taken in charge and disembarked the next day in Weymouth.
USS Samuel Chase then joined the Allied naval forces in the Mediterranean on 4 July to participate in the landing in Provence in August 1944. The following year it was deployed to the Pacific to continue the fighting.
In 1946 it was placed in reserve at Norfolk in the United States before being retired from service on 26 February 1947. It was sold on 9 May 1973 for being scrapped.
USS Samuel Chase technical sheet
Creator/User: United States of America
Denomination: APA26 – U.S.S. Samuel Chase
Class: Arthur Middleton cargo class
Crew: 578 sailors
Transport: 1,304 soldiers
Armament (1944): 1x 127 mm gun, 4x 76 mm guns, 8x 20 mm guns, 4x Browning 12,7 mm machine guns
Displacement: 16,725 tons
Speed: 33 knots
Length: 150 m
Beam: 18,4 m
Draught : 8 m