Landing Craft Vehicle & Personnel (LCVP) Higgins
History, technical sheet and photo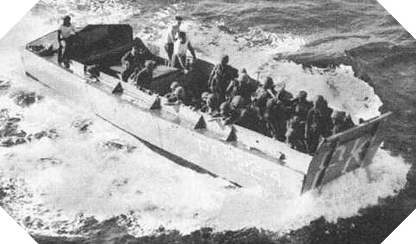 LCVP Higgins history

The LCVP (Landing Craft Vehicle & Personnel) is designed by American engineer Higgins, according to the plans of the old landing craft called LCPL (Landing Craft Personnel Large).
This ship is imagined in pure logic of expeditionary force. Designed to carry around 30 equipped soldiers or a light vehicle (Jeep type) and 12 infantrymen with their equipment, the LCVP quickly becomes the most present element during amphibious operations and especially during landings.
This flat-bottomed barge is capable of reaching 12 knots, and its structure allows it to make very rapid trajectory changes.
During the Normandy disembarkation, US forces are mainly equipped with LCVPs, which are more maneuverable and better suited to an amphibious assault than some larger and slower boats such as the LCA (Landing Craft Assault).
LCVP Higgins specification

Creator/User: United States of America
Denomination: LCVP
Crew: 4 (coxswain, engineer, bowman, sternman)
Propulsion: Gray Marine 6-71 Diesel Engine, 225 hp (168 kW) or Hall-Scott gasoline engine, 250 hp (186 kW)
Transport capacity: 36 equipped soldiers
Armament: two 7,62 mm (.30 cal.) Browning machine guns
Weight: 15,000 kg
Speed: 12 knots
Length: 11 m
Width: 3 m