USS Satterlee
Index of Allied warships during Operation Neptune
History, technical sheet and photo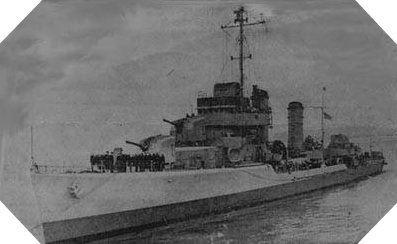 USS Satterlee history
The Satterlee was launched on 10 July 1942 and entered service on 1 July 1943. He carried out several escort missions across the Atlantic at U.S. Atlantic Fleet. During the first week of May 1944, it was sent to Great Britain to participate in Operation Overlord off Normandy.
Joining Escort Group 124.7 from Task Force "O" heading to Omaha Beach as part of Operation Neptune, it ensures the safety of the convoy of minesweepers during the crossing of the English Channel on the night of the 5 On 6 June 1944. On D-Day at dawn, it supported the landing of the 2nd Ranger Battalion at Pointe du Hoc. This support extended until June 8 and the USS Satterlee repeatedly prevented the Germans from succeeding their numerous counter-attacks.
The USS Satterlee then joined the allied naval forces in the Mediterranean Sea to participate in the landing in Provence, south of France, in August 1944. The following year, it was deployed to the Pacific to continue the fighting.
The destroyer was finally retired from service on March 16, 1946, and then resold on May 8, 1972 for being scrapped.
USS Satterlee technical sheet
Creator/User: United States of America
Denomination: DD 626 – U.S.S. Satterlee
Class: Gleaves-class destroyer
Crew: 276 sailors
Armament (1944): 4x 127 mm guns, 4x 40 mm guns, 7x 20 mm guns, 5x 533 mm torpedo tubes
Displacement: 1,630 tons
Speed: 37,4 knots
Length: 106,15 m
Beam: 11 m
Draught : 3,61 m