USS Staff – AM 114
Index of Allied warships during Operation Neptune
History, technical sheet and photo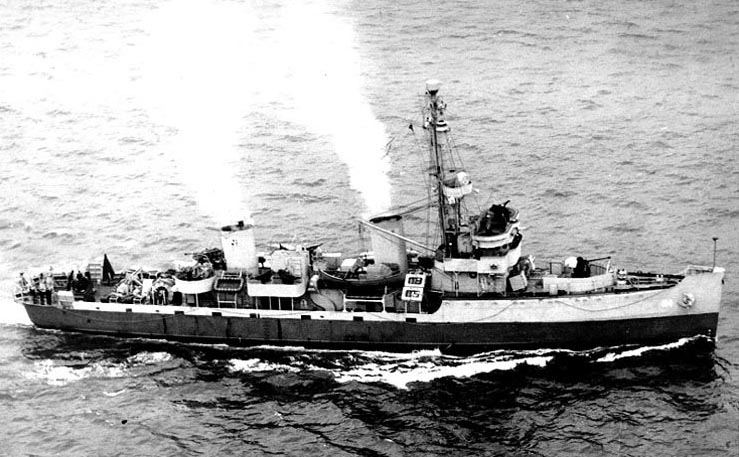 USS Staff history

The USS Staff was launched on 17 June 1942 and entered active service on 11 November of the same year. Engaged in several escorts of convoys in March 1943 in the Mediterranean Sea, it patrolled and carried out demining operations from its home port of Mers El Kebir.
On July 16, it hit an underwater mine that damaged it and made losses among the crew. Towed to the United States, it was repaired and renovated. On March 25, 1944, it traveled to Plymouth to participate in Operation Neptune in the English Channel. On the night of June 5-6, 1944, the USS Staff was at the head of all minesweepers heading for Normandy. Its mission continued on the days following the landing, particularly on June 8, when it came to help after the explosion of a mine that hit the USS Glennon. It helped the crew, some of whom were injured serious. For this quick and effective action, the Staff Captain, Lieutenant J. H. Napier, was decorated with the Bronze Star Medal.
Engaged in the Mediterranean Sea in the US 6th Fleet, USS Staff participated in the amphibious operations of the landing of Provence in August 1944. Returning to the United States in November, it was engaged in the Pacific as of March 1945 and more particularly in the maritime region of Okinawa. Its demining operations continued until December before heading for California.
Placed as a reserve in 1946, it was eventually removed from active and scrapped service as of January 15, 1947.
USS Staff technical sheet

Creator/User: United States of America
Denomination: AM 114 – U.S.S. Staff
Class: Auk-class minesweeper

Crew: 105 sailors
Armament (1944): 1x 76 mm gun, 2x 40 mm guns
Displacement: 904 tons
Speed: 18 knots
Length: 67,44 m
Beam: 9,8 m
Draught: 3,28 m