M2 Flamethrower
History, technical sheet and photo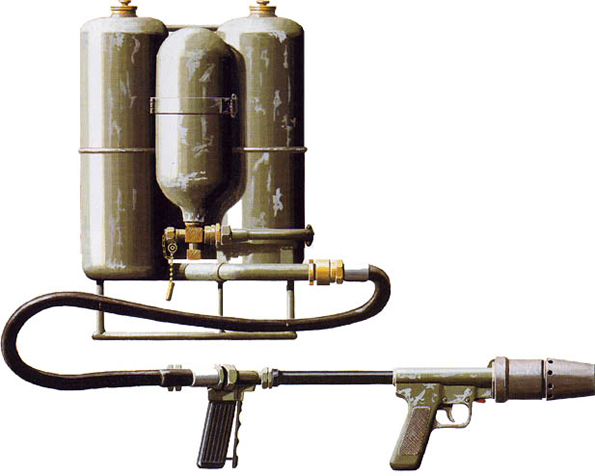 M2 Flamethrower history

At the beginning of the Second World War, the Americans sought to replace their initial flamethrower model, the Flamethrower M1. The new model, called M2, entered service in 1943.
It allows a particularly high firepower to be obtained in the context of reducing an isolated insulated resistance in a bunker or in any other enclosed space. The user carried three bottles on his back (two 2-gallon gas oil bottles each and a half-gallon nitrogen bottle) and carried a pistol in his hands. The total weight of the flamethrower M2 in combat order is just over 30 kilograms.
The flamethrower model M2 allows to reach a target at a distance of 20 meters for 7 seconds. The weak point of such an armament lies in the fact that the shooter must expose himself during the projection of the flames. It is also very vulnerable during combat phases because it is encumbered by this equipment which can also threaten the soldiers in the vicinity in case of explosion of the bottles.
The development of tanks equipped with flamethrowers such as the Churchill Crocodile caused a gradual withdrawal of this weaponry on the battlefield. They are, however, very useful in the Pacific because of the tactics of using caches to excess by the Japanese. The M2 Flamethrower was used until the end of the Second World War and especially during the Battle of Normandy.
Variants of the M2 model are used during the Korean War (M2A1-2) and the Vietnam War (M2A1-7 and M9A1-7).
M2 Flamethrower specification

Creator/User: Etats-Unis
Denomination: M2 Flamethrower
Loaded weight : 30,8 kg
Unladed weight: 19,5 kg
Fuel: 14.8 liters (4 gallons) of gas and 7.4 liters (2 gallons) of nitrogen
Fuel consumption: 1.85 liters (one half gallon) per second
Maximum firing range : 40 m
Effective firing range: 20 m
Duration: 7 seconds