M3 Trench knife
History, technical sheet and photo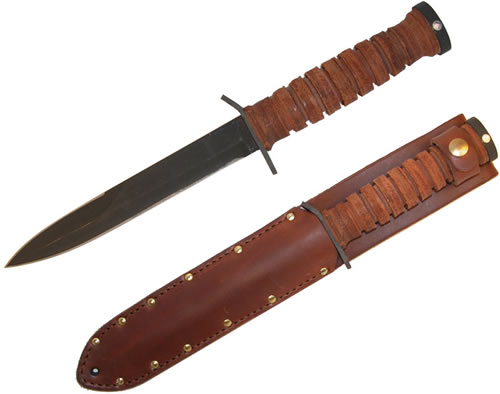 History of the M3 Trench knife
In 1942, the Americans sought to replace the old Mk I Trench model dating from the First World War. Two combat knives are then competing in December: the M3 Trench Knife and the 1912C2 developed by the Marine Corps. The imperatives of design are the speed of production and the use of few raw materials which are becoming more and more expensive with war. It is also the lowest cost of production of the M3 that allows it to be selected in relation to its competitor.
The M3 Trench Knife, also known as Fighting Knife, entered service in March 1943. Initially, the Americans wanted to distribute it to all non-bayonet soldiers (including those armed with the Thompson gun and the USM1 rifle) , But they primarily equip units likely to face hand-to-hand combat such as airborne troops and Rangers.
The knives come with a M6 riveted leather sheath that can be attached to a belt or directly at the calf. Paratroopers are used to placing them along their boots so that they can be used quickly after the jump.
In 1944, enough knives were available to equip the entire armed forces of the United States. In fact, no fewer than nine companies are responsible for their production (see the manufacturers' list and the copies on the right). The production ends in August 1944 but its use is still authorized in the American armies.
It is the new M4 bayonet for the USM1 rifle that replaces the production of the M3 knife.
M3 Combat Knife Technical Sheet
Creator/User: United States of America
Denomination: M3 Fighting/Trench Knife
Commissioned: March 1943
Total production (March 43 to August 44): 2,590,247
Total length: 292 mm
Weight: 230 g
Blades details
Lenght: 172 mm (6 inches 3/4)
Width: 21,8 mm
Thickness: 4,5 mm
Guard details

Guard lenght: 57,7 mm
Guard width: 3 mm
Manufacturers of M3Trench knives
H. Boker & Co., New-York, NY : 31,300
Robeson Cutlery Co., Perry, NY : 36,575
Aerial Cutlery Mfg. Co., Marinette, WI : 51,784
Pal Blade & Tool Co., Plattsburg, NY : 121,000
Kinfolks Inc., Little Valley, NY : 135,548
W.R.Case & Sons, Bradford, PA : 300,465
Camillus Cutler Co., Camillus, NY : 404,109
Utica Cutlery Co., Utica, NY : 655,000
Imperial Knife Co., Providence, RI : 854,000