M4 bayonet
History, technical sheet and photo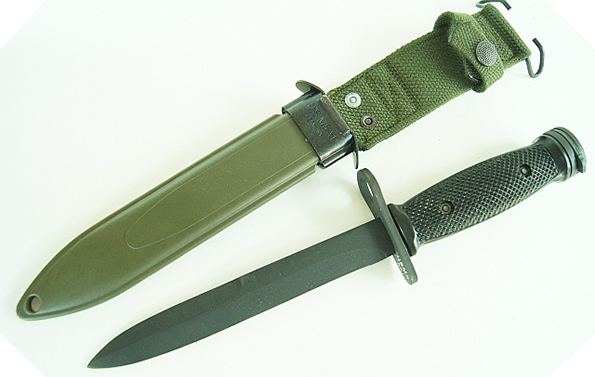 Post-war M4 bayonet model (plastic guard)
Bayonet M4 history
When the Americans defined the distribution of bayonets for their soldiers in 1942, it quickly became apparent that some of them were not equipped with bayonets. This is particularly true for personnel equipped with the Thompson gun and the USM1 rifle.
Initially, the US Army gave its soldiers without bayonets the M3 combat knives that was delivered during the year 1943. But at the same time it was preparing the development of a bayonet specific to the rifle USM1. This one is available in May 1944, a month before the launch of Operation Overlord in Normandy.
The guard is covered with leather, which differentiates it from the guards produced after the war and which are plastic (cf picture above). The M4 bayonet is equipped with a model M8A1 sheath that is identical to that used by the M3 combat knife.
However, very few USM1 rifles are equipped with the adapter needed for the bayonet and few soldiers use this weapon in its original function.
Specifications of the M4 bayonet
Creator/USer: United States of America
Denomination: M4 bayonet
Total length: 298,45 mm
Blade details

Length: 171,45 mm (6.75 inches)
Guard details

Longueur : 127 mm (5 pouces)