MP 40 (Maschinenpistole 40) Schmeisser submachine gun

History, technical sheet and photo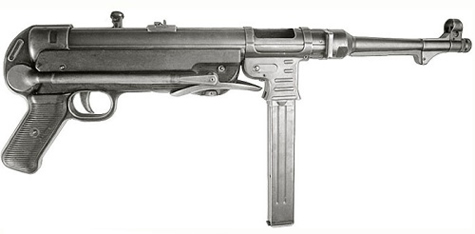 MP 40 Schmeisser submachine gun history
In 1938, the German Army was given a new machine gun, called MP 38, which was equipped with a retractable stick. It had to accompany the paratroopers and the crews of tanks and troop carriers. But the encouraging performance of the weapon allows him to equip the German infantry in general.
In 1940, German engineers decided to develop a new model of the MP 38, which immediately became known as the "Schmeisser" in the Wehrmacht, called MP 40.
One of the biggest flaws of the weapon lies in its structure, which lacks external protection. Thus, after a long or intense use of the MP 40 machine pistol, the weapon heats and burns the hands of its user if it takes it elsewhere than by the handle and the charger. However, the famous "Schmeisser" has a high rate of fire and its relatively good precision at short distance will develop its use in the German army.
MP 40 Schmeisser submachine gun specification
Creator/User: Germany
Denomination: MP 40
Produced: 680,000 (during World War 2)
Fire mode: Automatic
Caliber: 9×19mm Parabellum
Feed system: 32 round-magazine
Effective firing range: 150 m
Rate of fire: 450 rounds/min
Weight: 3,97 kg
Length: 830 mm