Pocket knife M2 para
History, technical sheet and photo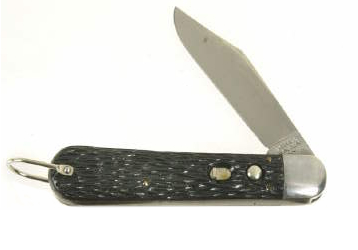 Pocket knife M2 para

history
When the Americans develop the principle of airborne troops, new equipment is devised to respond to situations that paratroopers may face. With the problem of parachute hangers, which are regularly tangled with weapons, bags and sometimes parachutists themselves, they ask to be equipped with a small knife allowing them to cut these links, if necessary .
Several knives were presented to parachutists in 1940, and one of them was unanimous: a small knife created by the Schrade Cutlery Company in Walden, New York, which the Americans quickly called "Knife, Pocket, M2″. It holds in a pocket of the M2 combat jacket which allows it to be easily accessible by its user. Unlike a conventional knife, it works with the locking system which saves time in an emergency. It also has a metal ring to hold a wrist strap.
Several models are designed by various American companies and delivered to parachutists, such as the Presto M2 curved blade.
M2 knife

technical sheet
Creator/User : United States of America
Denomination: Knife, pocket, M2
Overall length (with blade): 18 cm
Blade details
Length: 7,3 cm
Haft details

Length: 10,7 cm