2 million euros for the battery of Longues-sur-Mer in Normandy
Longues-sur-Mer battery development project validated by Bayeux Intercom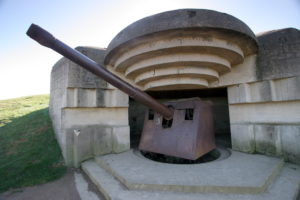 M272 casemate model at the Longues-sur-Mer battery housing a 150 mm TK C/36 gun.
Photo: Nitot
February 13, 2019: 2 million euros for the battery of Longues-sur-Mer
Author: Marc Laurenceau
A project to improve the accessibility conditions of the historical site of the Longues-sur-Mer battery was voted on February 7th by the community of communes of Bayeux Intercom.
On June 6, 1944, at six past ten, the four 150mm TK C / 36 naval guns manufactured by Skoda from Longues Battery opened fire on the Allied Armada, forcing the force G flagship (Gold Beach), the HMS Bulolo, to leave his anchorage and reach a position out of range of the shots. The response of the British warships is such that the German battery dives into total silence at eight forty-five, making the Allied sailors believe that they managed to destroy it. Later in the morning of D-Day, the cruiser U.S.S. Arkansas manages to destroy a piece by direct fire and damages two other guns. The battery is silent again until the fourth piece, rescued from the artillery duels, resumes shooting in the afternoon of June 6, alongside the Soviet canon of 122 mm, towards the beaches of Gold and Omaha, without being able to worry excessively the Allies.
In total, Longues' battery fired 115 rounds at the Allied forces during D-Day. On the morning of June 7, the Allies launch a new airstrike that precedes the victorious assault by British troops of No. 2 Company C Devonshire regiment, who are masters of the place.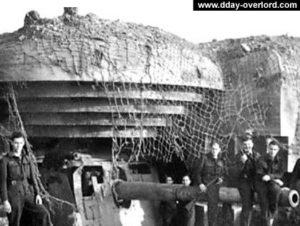 A 150 mm TK C/36 gun from the Longues battery after the departure of the Germans.
Photo: IWM
The battery of Longues-sur-Mer is today one of the last vestiges of the historical space of the battle of Normandy still including its original artillery guns, on look with central pivot Torpedolafette (TP) C/36. Located on the seashore eight kilometers north of Bayeux, it is ideally located between the artificial port of Arromanches to the east and the beach of Omaha Beach to the west. Yet, in the context of tourism memory, visitors are not as many as the wish of Bayeux Intercom: very few of the visitors mark a stop to discover a unique site… and free.
In order to improve reception conditions, work has been carried out regularly since 2006. The site can easily accommodate vehicles and coaches, safety standards have been applied and many educational panels have been installed. Despite these facilities, the tourism development of this site remains subdued.
The Longues-sur-Mer Battery Fire management station saw the addition of bridges allowing secure access.
Photo (2009): Bagradian
To change the situation, the community of communes of Bayeux Intercom voted on 7 February 2019 an improvement project estimated at 2,317,895€ of which 1,000,000€ is provided by the European Union. This project involves the construction of new infrastructures: a new tourist office, improved accessibility for people with disabilities, a motorhome parking area, new educational panels, etc. Work could begin at the end of the year 2019 and should extend until 2023. During this period, the battery remains accessible to visitors.

 Back to the News of the Normandy landing beaches menu
DDay-Overlord.com – Reproduction subject to authorization of the author –
Contact