Death of Jean Masson, Kieffer commando veteran
Death of the French veteran Jean Masson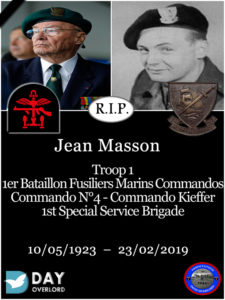 Jean Masson was one of the last French veterans of the Normandy landings
Photo: D-Day Overlord
February 24, 2019: Death of Jean Masson, veteran of the Kieffer commando
Author: Marc Laurenceau
Jean Masson passed away on February 23, 2019 at the age of 95.
Born on May 15, 1923 in Saint-Dié, Jean Masson joined the Navy at the outbreak of the Second World War and wanted to reach England after the defeat and occupation of France by the Germans. But imprisoned in Spain, he couldn't realize his project as soon as he expected, alongside other French like Maurice Chauvet. He managed, however, to embark on board an English Royal Navy warship and reached England on January 2, 1944.
His perfect physical condition and his sense of duty open the doors of the Free French Forces. Volunteering to join the commandos, he successfully follows the formidable training of these elite soldiers at Achnacarry in Scotland, which allows him to join the Troop 1 of the 1er bataillon de fusiliers marins commandos. Wearing the English uniform but with the "France" badge, he crosses the Channel during the night of June 5 to 6, 1944 to participate in the assault on Fortress Europe.
On June 6, 1944, Jean Masson participated in the assault on the beach of Colleville-sur-Orne (today Colleville-Montgomery), sector "Sword Beach". Shortly after having crossed the ground of France, a violent explosion projects him on the ground, inanimate. Several commandos are killed by this same explosion. Placed unconscious in the middle of others wounded in the dunes near the beach, he does not recover his mind until 48 hours later and is evacuated to England for treatment.
Treated for his wounds, he then took part in the assault Flessingue November 1, 1944, participating this time in all the fighting.
After the war, he worked for several years in Africa before settling with his wife in Draguignan, where they simply enjoyed life and the sun. Jean returned regularly to the commemorations of the landing, the last time being on the occasion of the 70th anniversary in 2014. He had planned to participate in the 75th anniversary of D-Day.
There are now only three veterans still alive on the 177 French commandos of the 1st battalion of commando marines who landed on Sword Beach: Hubert Faure, Jean Morel and Hubert Faure.

 Back to the News of the Normandy landing beaches menu
DDay-Overlord.com – Reproduction subject to authorization of the author –
Contact