Shooting of a 3D documentary film for the D-Day 75th anniversary
October 1st, 2018: shooting of a 3D documentary film for the 75th anniversary of D-Day
Author: Marc Laurenceau

As part of preparations for the 75th anniversary of the landing in Normandy, Pascal Vuong is currently shooting his new album on D-Day in the Carentan area. In 2014, this French director presented the 3D film "D-Day Normandy 1944", a documentary explaining the preparations and the progress of the Overlord operation, notably with animated maps and computer-generated images.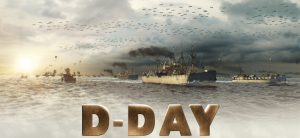 D-Day Normandie 1944 est un court-métrage réalisé par Pascal Vuong et sorti en 2014 qui explique les préparations et le déroulement du débarquement de Normandie en juin 1944.
Pascal Vuong is registering his new project in connection with the construction of a 3D cinema room at the D-Day Experience Museum in Saint-Côme-du-Mont, which should be inaugurated in the spring of 2019. This documentary is dedicated to fighting delivered by the American paratroopers in the area of Carentan from June 6 to 13, 1944. This city is a key point in the south of the Cotentin: it is where the railways (including the Paris-Cherbourg line) and the road between Calvados and Cotentin. In the event that bridges over the moat are destroyed or controlled by the enemy, the first crossing point between these two sectors is located in Carentan. If the priority of the Allies on D-Day is to ensure a strong bridgehead in the Cotentin, the capture of Carentan comes immediately after.
One of the most significant historical episodes of this period and these places is the bayonet charge delivered on the morning of June 11, 1944 by 70 American paratroopers of the 502nd Parachute Infantry Regiment of the 101st Airborne Division, facing the Ingouf Farm. Led by Lieutenant-Colonel Robert G. Cole, they fight until the last German counter-attack on June 13, 1944.
Lieutenant-Colonel Cole, commanding the 3rd battalion of the 502nd PIR, 101st US Airborne Division, giving his testimony  before the war correspondents of the bayonet charge which he led to the entrance of Carentan on June 11, 1944.
Video: US National Archives
The filming took place from September 29 to 30 at Carentan with the participation of reenactment groups, on the different historical battlefields. The 3D documentary will be broadcast at the D-Day Experience Museum on the occasion of the 2019 commemorations.
DDay-Overlord.com – Reproduction subject to authorization of the author –
Contact