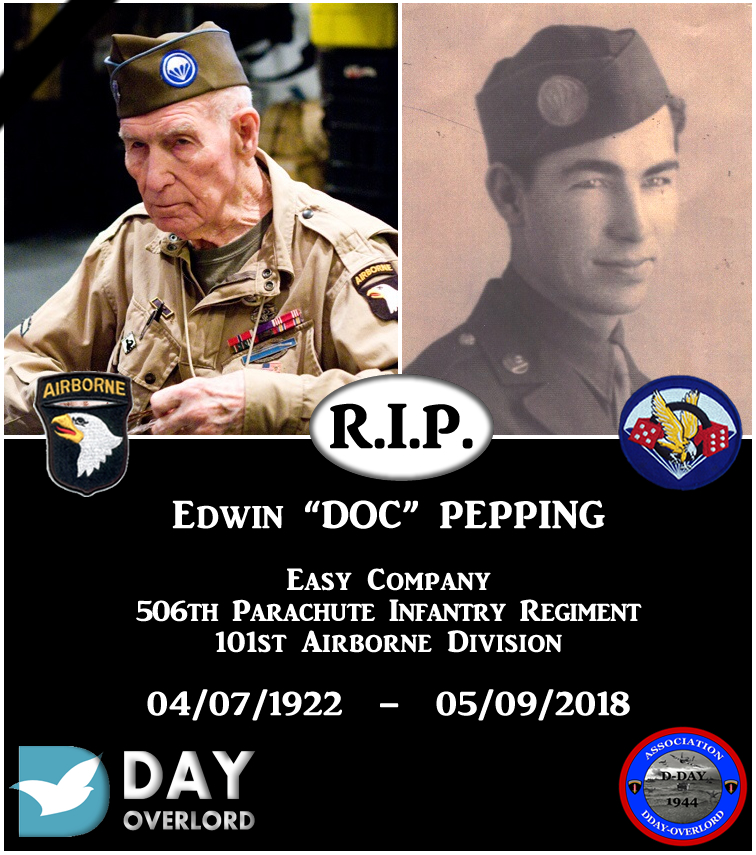 RIP Edwin "Doc" Pepping | 1922-2018
Easy Company
506th Parachute Infantry Regiment
101st (US) Airborne Division
Edwin "Ed" Pepping was born on July 4, 1922, American National Day, in Alhambra, California.
He volunteered to join the airborne troops and was incorporated into the 506th Parachute Infantry Regiment (PIR) of the
101st (US) Airborne Division
. His baisc training began in Toccoa, Georgia, where he obtained his wings. Integrated in the Easy Company, he is trained as a medic. Deployed with his entire unit in Britain to prepare for the assault on German positions in Europe, he participated in Operation Overlord by being dropped over the drop zone "C" in the Cotentin Peninsula in the early hours of June 6, 1944.
His reception on the ground is violent: three of his vertebrae move on impact. Having not been parachuted in the right place, he joined
Angoville-au-Plain
where he participated in helping the many injured soldiers on both sides, along with other medics. On June 7th, Edwin "Doc" Pepping took part in the fighting in the direction of
Saint-Côme-du-Mont
and tried to provide first aid to Colonel William L. Turner, commanding the 1st Battalion of the 506th PIR, wounded in the face by the bullet of a German sniper. But the officer, seriously wounded, dies even before Edwin reaches him.
Engaged until June 12 in the hard fighting of the
Carentan
sector, he is hit by shrapnel and must be evacuated: first to a field hospital in the area of ​​
Sainte-Mère-Eglise
, then back to England.
Because of his medical problems, he leaves the company before the regiment's engagement in Operation Market-Garden, Holland.
He died on September 5th, 2018.
DDay-Overlord.com – Reproduction subject to authorization of the author –
Contact