ALG A-4 – Deux-Jumeaux
Battle of Normandy
This page presents the history of ALG (Advanced Landing Groud) A-4, used by the 9th United States Air Force during the Battle of Normandy.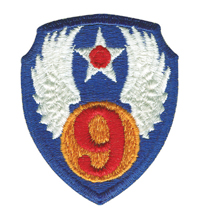 9th United States Air Force
Localisation: Deux-Jumeaux, Calvados (14)
Code: A-4 
Coordinates: 49°23'28"N – 000°57'43"W
Construction: from June 14 to 20, 1944 by the 816th Engineer Aviation Battalion (EAB)
Operational period: from June 20 to September 15, 1944
Length: 1 524 m (5 000 feet)
Width: 36,57 m (120 feet)
Azimuth: 110°
Airstrip: Square-Mesh Track (SMT)
Units:
– 67th Tactical Reconnaissance Group (107th Tactical Reconnaissance Squadron) sur F-6 Mustang
– 48th Fighter Group (492nd Fighter Squadron, 493rd Fighter Squadron, 494th Fighter Squadron) using P-47 Thunderbolt.
– 370th Fighter Group (485th Fighter Squadron) using P-38 Lightning.
ALG A-4 history:
The installation of the ALG A-4 runway was fully completed on June 30, 1944, but is practicable as of June 20. The ALG A-4 served as the operationnal takeoff point for the 48th Fighter Group.
DDay-Overlord.com – Reproduction subject to authorization of the author –
Contact