ALG B-11 – Longues-sur-Mer
Battle of Normandy
This page presents the history of ALG (Advanced Landing Groud) B-11, used by the Royal Air Force during the Battle of Normandy.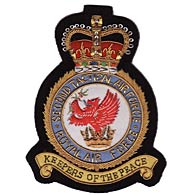 2nd Tactical Air Force
Location: Longues-sur-Mer, Calvados (14)
Code: B-11
Coordinates: 49°20'34"N – 000°41'27"W
Construction: from June 18 to June 21, 1944
Operational period: from June 21 to September 4, 1944
Length: 1 200 m
Width: 40 m
Azimuth: 131°
Airstrip: compacted earth
Units:



– 125 Wing (132 RAF squadron, 453 RAAF squadron – Australia, 602 squadron) using Spitfire aircraft.
– 144 Wing (441 RCAF squadron – Canada) using Spitfire aircraft.
ALG B-11 history:
ALG B-11 is located between the localities of Manvieux (east) and Longues-sur-Mer (west), three hundred meters east of the Longues German battery. Several squadrons from different nations followed one another until September 1944.
Remains:
Commemorative stele at the Longues-sur-Mer battery parking.
DDay-Overlord.com – Reproduction subject to authorization of the author –
Contact