ALG B-9 – Lantheuil
Battle of Normandy
This page presents the history of ALG (Advanced Landing Groud) B-9, used by the Royal Air Force during the Battle of Normandy.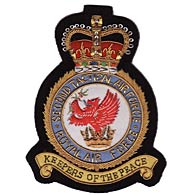 2nd Tactical Air Force
Location: Lantheuil, Calvados (14)
Code: B-9
Coordinates: 49°16'22"N – 000°31'41"W
Construction: from June 10 to June 21, 1944 by the Royal Engineers 13th Airfield Construction Group, 653rd Road Construction Company
Operational period: from June 21 to August 31, 1944
Length: 1 200 m
Width: 40 m
Azimuth: 247°
Airstrip: Square-Mesh Track (SMT)
Units:

– 143 Wing RCAF (438 squadron, 439 squadron, 440 squadron) – Canada – using Typhoon aircraft.
ALG B-9 history:
ALG B-9 is located south of Creully and west of Lantheuil.
ALG B-9 serves as the base for the 143 Wing of the Royal Canadian Air Force as of June 21, 1944, with about sixty Typhoons.
Remains:
Memorial stele at the Petit Magny manor.
DDay-Overlord.com – Reproduction subject to authorization of the author –
Contact