Sallenelles (Calvados)
The cities of Normandy during the 1944 battles
Liberation: August 17, 1944
Deployed units:

N°45 Royal Marine Commando, 1st Special Service Brigade, 3rd Infantry Division

N°48 Royal Marine Commando, 3rd Infantry Division

1er groupement indépendant belge "Brigade Piron", 6th Airborne Division

 346. Infanterie-Division

 711. Infanterie-Division

Grenadier-Regiment 736, 716. Infanterie-Division
History:
The commune of Sallenelles in the Calvados is reached as of June 6, 1944 by the British soldiers of the No. 45 Royal Marine Commando (1st Special Service Brigade, 3rd Infantry Division), commanded by Captain Ries. But the Germans of the Grenadier-Regiment 736, belonging to the 716. Infanterie Division, succeeded in pushing back the English troops which retreated to the Plein.
Six days later, on June 12, it was the turn of the No. 48 Royal Marine Commando (attached to the 3rd Infantry Division) to reconnoitre Sallenelles that the Germans no longer hold. The latter retreated to the north-east, at the point of support of the Moulin du Buisson, from which they offered a formidable resistance against the English. Unable to progress beyond the fulcrum, the No. 48 Commando folds to full height. The Germans are reinforced by the 711. Infanterie-Division and by the arrival of the 346. Infanterie-Division coming from the region of Le Havre.
The front stabilizes and the fighting is transformed into a war of positions for more than two months, with permanent artillery duels. Numerous patrols give information on enemy positions despite the losses caused by artillery and skirmishes. All the German counter-attacks directed towards the Orne river break under the shells fired by cannon, howitzers and allied mortars.
On 16 August 1944, more than two months after D-Day, the British were preparing to launch Operation Paddle in the direction of the Seine, which was to begin the next day. The Belgian and Luxembourg soldiers of the "Brigade Piron" (1st Belgian independent group) attached to the 6th Airborne Division are preparing to mount an attack on the outskirts of Sallenelles. It was during the set-up phase that the first Belgian soldier was killed during the Battle of Normandy, private Edouard Gerard, 20, from Dinant.
On August 17, the offensive Paddle was launched. The Piron brigade took over Sallenelles, despite the large number of obstacles, mines and traps installed by the Germans.
Sallenelles maps: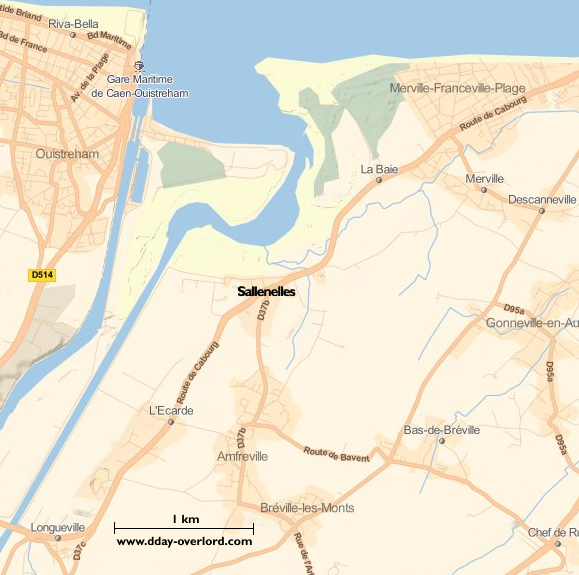 Back to the Normandy cities in 1944