Darrel "Shifty" Powers
Veterans of Easy Company,  506th PIR, 101st Airborne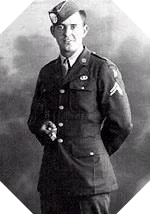 Darrell Powers was born on March 13th, 1923 in Clinchco, Virginia. He grew up at the same place, taking advantage of the great outdoors to become familiar with rifle shooting and quickly became an excellent shooter.
He worked as a machinist in a US Navy port at the Navy after finishing his high school education. But considering himself useful to other positions in the army and not being sure to keep this work, he then volunteered as a volunteer with the parachutists in 1942 and carried out his basic training at Camp Toccoa, integrating soon after the Easy Company. He participated in the Battle of Normandy (Operation Overlord), fighting in Holland (Operation Market Garden) and took part in the actions of the 506th Parachute Infantry Regiment (101st Airborne Division) in Elsass (Haguenau) and then in Germany. He was never wounded during combat during the Second World War, a case rare enough to be noticed.
He benefits from an early return to the United States, thanks to a lottery organized by the command and allowing the lucky winner to leave the theater of operations earlier than planned. But he is the victim of a road accident while heading for the airport: hospitalized for several months, he will finally return to the United States only after his unit.
After the war, he worked for twenty years with the Clinchfield Coal Corporation. He died on June 17, 2009 at the age of 86.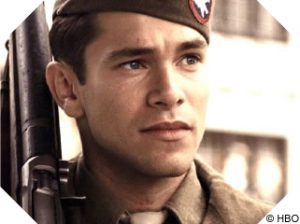 Actor Grant Peter Youngblood Hills in Band of Brothers

Back to the Band of Brothers veterans menu