Donald Hoobler
Veterans of Easy Company,  506th PIR, 101st Airborne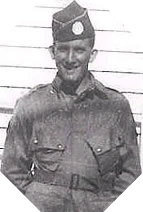 Born in a small town in Ohio, Donald Hoobler volunteered for the US Army paratroopers in 1942.
In the same year, he joined the Easy Company at Camp Toccoa training grounds.
Like many Allied soldiers during the conflict in Europe, including Donald Malarkey in his company, Donald Hoobler tried to find a German Luger pistol. He succeeds in it in the Bois Jacques during the battle of the Ardennes, after having killed a German courier on horseback.
But by observing his new acquisition in all the seams, he accidentally shoots a bullet in the leg with the pistol loaded. The projectile cuts the femoral artery of Corporal Hoobler who dies a few minutes later, before the "Doc Roe" can save him. This took place on 3 January 1945.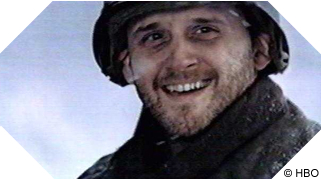 Actor Peter McCabe in Band of Brothers

Back to the Band of Brothers veterans menu