Lewis Nixon
Veterans of Easy Company,  506th PIR, 101st Airborne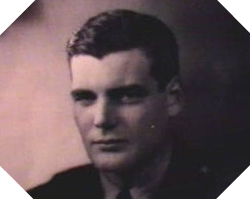 Lewis Nixon was born in New York City on September 30, 1918. He was the grandson of a shipbuilding architect and was awarded 3rd place at a regatta at the age of seven on May 22, 1926. During his youth, Lived in New York City and Montecito, California. He has traveled extensively, notably in Germany, England and France. He was a student at Yale University for two years.
On January 14, 1941, he joined the army. After graduating from the Army Officer Candidate School, one of the officers' schools in the United States, he became a second lieutenant in 1941. It was at this point that he decided to join the troops Airborne. He was transferred to the Easy Company of the 506th Paratrooper Infantry Regiment. Nixon trained airborne troops at Camp Toccoa, Georgia, and then at the Airborne School in Fort Benning.
Nixon was appointed to the 2nd Battalion as an intelligence officer. Quickly, he was promoted to the same post but at the top: the 506th regiment, shortly after the action of the Easy company in Carentan, on 12 June 1944.
He participated in the campaigns of Normandy, Holland, Belgium and Germany, without ever having to use his weapon despite participating in three operational jumps (this is one of the only ones of the 101st Airborne Division in Three stars to his parachutist patent badge). Wounded in Holland by a MG-42 bullet, he got away with a simple wound as the piece of metal had passed through his helmet. He experienced a real problem of alcoholism (with an exaggerated passion for the whiskey VAT 69) which led him to be demoted to the second battalion as head of the operations office, where he did an excellent planning job. In Berchtesgaden, Germany, he owned for some time the huge wine cellar that belonged to Hermann Göring.
Nixon participated on 24 March 1945 in Operation Varsity (airborne operation over Germany) as an observer to the 17th Airborne Division. His plane was hit by a German air defense fire after he and three other paratroopers jumped.
He returned to the United States in September 1945 with the rank of captain. He worked in the family business Nixon Nitration Works in New Jersey. Dick Richard Winters became one of the company's managers.
Nixon divorced twice before meeting his last wife, Grace, with whom he ended his problem of alcoholism. Lewis Nixon died in Los Angeles on January 11, 1995 as a result of complications related to diabetes.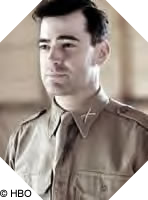 Actor Ron Livingston in Band of Brothers

Back to the Band of Brothers veterans menu