Richard Dick Winters
Veterans of Easy Company,  506th PIR, 101st Airborne
| | |
| --- | --- |
| Richard Dick Winters | Damian Lewis in Band of Brothers |
Biography
Richard Dick Winters, a graduate of Franklin Marshall College, Lancaster Country, Pennsylvania, joined the military in 1941.
During basic training, Winters is intrigued by his training officer who makes an explanatory speech for an hour on a rifle he believed to hold in his hands when it was not the right one.
It is also during his classes that Winters discovers the airborne troops. He immediately decided to volunteer in the "Airborne Troops" he did not know of, as did a large part of the Americans at the time.
He joined the Easy Company in the summer of 1942 as head of section at the Toccoa training grounds in Georgia. The relationship between Winters and his immediate superior, Captain Herbert Sobel, is not fixed and to avoid tensions that can hinder the smooth running of operations, Sobel is transferred to another regiment and replaced by Lieutenant Thomas Meehan.
In Normandy, Meehan is killed on D-Day, and Winters becomes the commander of the Easy by substitution. He excelled at this post and the American General Staff, as the fighting in Europe evolved, decided to gradually raise it to rank. Richard D. Winters becomes Major (commander) at the end of the Second World War.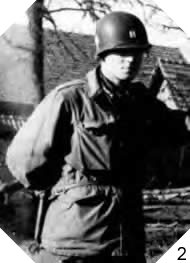 Captain Winters at Haguenau, Alsace
Winters was an officer very close to his men, not hesitating to meet the assaults, analyzing situations quickly and efficiently (the assault he organized and ordered on D-Day near Manoir de Brécourt in Normandy is now studied, commented and taught at the American School of West Point officers for his amazing efficiency) and did not hesitate to refuse orders he deemed useless, as in Haguenau, Alsace, where Winters refused to set up a combat patrol.
He died on January 2, 2011 at 92 years old.

Richard Dick Winters wrote his memoirs as Beyond Band of Brothers, The War Memoirs of Major Dick Winters


Back to the Band of Brothers veterans menu
DDay-Overlord.com – Reproduction subject to authorization of the author –
Contact