William "Wild Bill" Guarnere
Veterans of Easy Company,  506th PIR, 101st Airborne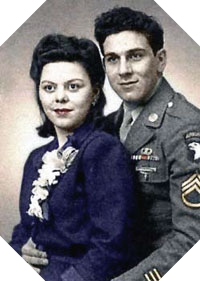 William "Wild Bill" Guarnere with his wife

William Bill Guarnere is the youngest of a large family comprising ten children, originally from the southern suburbs of Philadelphia in the United States.
He engages in the Citizen Military Training Corps (CMTC) with the encouragement of his mother, who sees in the army the chance for his son to eat, get dressed, and be away from the city.
William Guarnere spent three years with the CMTC, but the program was canceled when the war began. Very interested and quickly passionate about paratroopers, he volunteered in the airborne troops in 1942 and began a basic training at the training grounds of Toccoa.
On 5 June 1944 in England, just before leaving for Normandy, he learned that his brother had been killed in action in Italy at Monte Cassino.
He was quickly nicknamed "Wild Bill" because of his great combativity with the German soldiers during the war. During the Battle of the Ardennes, he lost a leg in battle at Bastogne, during an artillery barrage. In spite of this infirmity, he went several times to Europe after the war, on the occasion of the various commemorations.
Bill Guarnere wrote his memoirs in the book Brothers in Battle, Best of Friends. He died on 8 March 2014.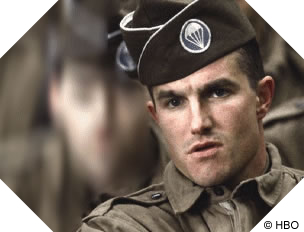 Actor Frank John Hughes in Band of Brothers

Back to the Band of Brothers veterans menu