SdKfz 166 Sturmpanzer – Brummbär
History, technical sheet and photo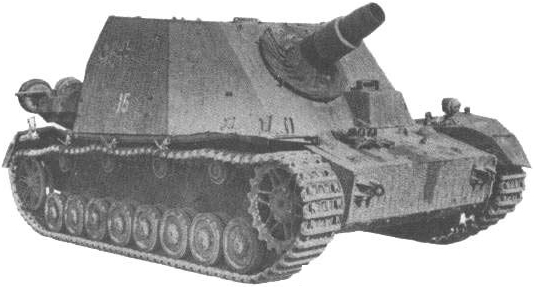 Sturmpanzer Brummbär history
At the beginning of the Second World War, the Germans were faced with the difficulty of advancing artillery at the same rate as armored vehicles and infantry. Hence the idea of ​​reinforcing the armored vehicle fleet of self-propelled guns to ensure continuous support to the assault units while allowing to reinforce the firepower during the fixed or defensive phases.
To this end, the German company Alkett presents a prototype on October 14, 1942, which reuses the chassis of the powerful Panzer IV to which is added a 150 mm howitzer protected by a protective shield. Its armament and armor allow it to support the infantry closest to the front line, especially in urban combat where the destructive power of its shells succeed in quickly reducing any localized resistance. This stun gun, called Sturmpanzer IV and nicknamed Brummbär, can notably fire explosive shells (15 cm slG Granate) with a particularly powerful destructive power.
The first versions of the self-propelled gun are too heavy for the chassis that supports it and the first models undergo suspensions and transmissions. In 1943, the structure and the armor of the Sturmpanzer IV Brummbär are lightened by 800 kg and successive versions are produced. The Stupa IV is known for its baptism of fire during the Battle of Kursk in the summer of 1943 within the Sturmpanzer-Abteilung.
The last series of the Sturmpanzer IV (of the year 1944) re-use the dome of the Sturmgeschütz III Ausf. G. During the Battle of Normandy, the Brummbär were engaged in the Sturmpanzer-Abteilung 217, which was en route to the Norman front as of July 2, 1944. For almost a month, they were making difficult progress and many Breaks before reaching Caen at the beginning of August. The first battles were recorded on 7 August, but by 19 August only 17 Stupa IV were still in operation while 14 others were undergoing repairs. Much of the Brummbär engaged in Normandy escaped the trap of the Falaise pocket and twenty-two assault guns were still available in October 1944.
Sturmpanzer Brummbär specification
Creator/User: Germany
Denomination: Sturmpanzer 43 – Sd.Kfz. 166 – Brummbär
Number produced: 306
Length: 5,93 m
Width: 2,88 m
Height: 2,52 m
Weight: 28,200 kg
Maximum speed: 40 km/h
Operational range: 210 km
Main armament: 15 cm StuH 43 L/12 howitzer (made by Skoda)
Secondary armament: one to two 7,92 mm MG 34 machine guns
Engine: V-12 Maybach HL 120 TRM 300 PS (296 hp, 220 kW)
Crew: 5 (driver, commander, gunner, 2 loaders)