SdKfz 124 Wespe
History, technical sheet and photo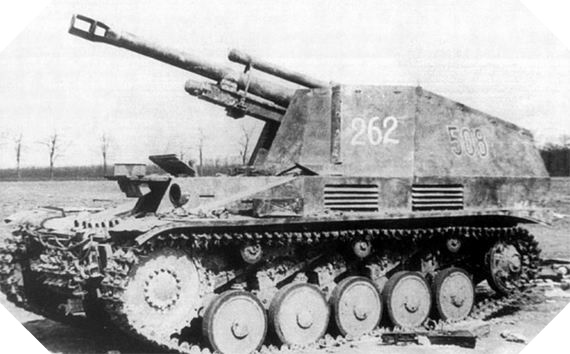 Wespe Sd. Kfz. 124 history
At the beginning of the Second World War, the Germans were faced with the difficulty of advancing artillery at the same rate as armored vehicles and infantry. Hence the idea of ​​reinforcing the armored vehicle fleet of self-propelled guns to ensure continuous support to the assault units while allowing to reinforce the firepower during the fixed or defensive phases.
To this end, the Germans reuse the chassis of the aging Panzer II Ausf. F to install a powerful 105-mm artillery gun (the FH 18) in a superstructure protected by a frontal and lateral shield. The first specimens were produced in February 1943 and knew the fire baptism a few weeks later on the eastern front. The production of this self-propelled gun nicknamed "Wespe" continued until 1944 and put an end to the construction of the Panzer II as a battle tank.
Deployed within artillery regiments, the Wespe are particularly appreciated for their mobility and firepower capabilities. Some Panzer II are also modified in transport of armored ammunition, without barrel but with the protective shield of the Wespe.
Wespe Sd. Kfz. 124 specification
Creator/User: Germany
Denomination: SdKfz 124 – Wespe
Number produced: 682
Length: 4,81 m
Width: 2,28 m
Height: 2,30 m
Weight: 11,000 kg
Maximum speed: 40 km/h
Operational range: 220 km
Armament: one 10,5 mm leFH 18M L/28 howitzer (40 shells)
Engine: 6-cyl petrol Maybach HL 62 TR 140 PS (138 hp, 103 kW))
Crew: 5 (commander, driver, three gunners)