Consolidated B-24 Liberator
History, technical sheet and photo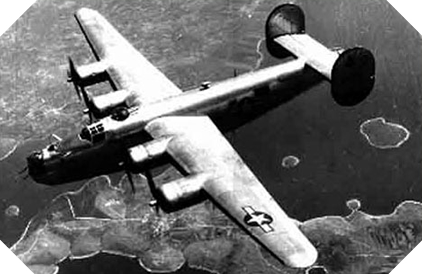 Consolidated B-24 Liberator history

In 1939, when the Boeing B-17 bomber entered service in the U.S. Air Force, the US military wanted to increase and reinforce their fleet of strategic bombers. At the end of December 1939, the first prototype, called B-24, was presented to the American military.
The characteristics of the prototype make a very good impression to the military observers who decide to launch the progression on a larger scale. The first deliveries took place in March 1941 and, from August 1942, production amounted to nearly 200 new machines each month. No less than fifteen versions have been developed, including anti-submarine B-24, cargo transport and maritime patrol.
Deployed on most fronts of the Second World War, the B-24 bomber nicknamed "Liberator" participates in most of the major raids of this conflict, taking part in the bombing of the Battle of Normandy. 18,188 aircraft were built during the entire world war. It is heavily armed, which explains why nearly 2,600 enemy aircraft are shot down during its many operations.
Consolidated B-24 Liberator specification

Creator/User: United States of America
Denomination: Consolidated B-24 J Liberator
Length: 20,47 m
Wingspan: 33,52 m
Height: 5,48 m
Unloaded weight: 17,237 kg
Maximum speed: 483 km/h
Operational range: 3,380 km
Ceiling: 8,500 m
Armament: ten 12,7 mm Browning machine guns
Transport capacity: 5,800 kg of bombs
Crew: 11 (pilot, co-pilot, navigator, bombardier, radio operator, nose turret, top turret, 2 waist gunners, ball turret, tail gunner)
Powerplant: four Pratt & Whitney R-1830-35 or -41 turbosupercharged radial engines, 1,200 hp (900 kW) each
DDay-Overlord.com – Reproduction subject to authorization of the author –
Contact