De Havilland Mosquito B.IV Series II
History, technical sheet and photo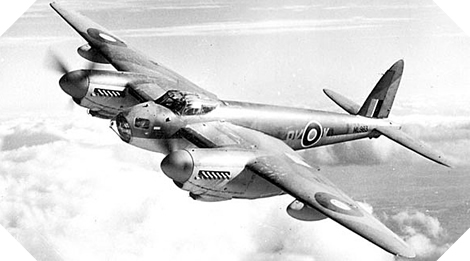 De Havilland Mosquito history

It was in 1940 that Winston Churchill launched an important order with builders, in order to equip Great Britain with important means of bombers. The Mosquito was born at this time: in March 1940, the first copies were ordered.
The first mission carried out by the Mosquito was a reconnaissance operation over France on September 20, 1941. As missions progressed, De Havilland Mosquito was mainly used for ground attacks with precise objectives. Nearly 27 different models are produced.
The Mosquito light bombers were used on D-Day, June 6, 1944, but also throughout the Battle of Normandy. Some aircraft are licensed in Australia and Canada, but all are retired from active duty before 1960.
De Havilland Mosquito specification

Creator/User: Britain
Denomination: De Havilland DH.98 Mosquito B Mk IV Series II
Length: 12,43 m
Wingspan: 16,51 m
Height: 4,65 m
Empty weight: 5,940 kg
Maximum speed: 612 km/h
Operational range: 2,000 km
Ceiling: 9,500 m
Transport capacity : 907 kg of bombs
Engine: two Rolls-Royce Merlin 21/21 (left/right), 1,230 hp each
DDay-Overlord.com – Reproduction subject to authorization of the author –
Contact