Douglas A-20 Havoc
History, technical sheet and photo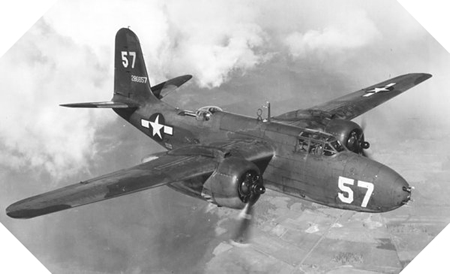 Douglas A-20 Havoc history

In 1937, the United States Army Air Corps wanted to acquire increased firepower, both in terms of ground bombing and support. It also looks for a device capable of evolving at high altitude. Despite the proposals of several companies and in particular of the Douglas Aircraft Company, directed at that time by Heinemann, which proposed a prototype named Model 7B.
France discreetly showed interest and carried out its own tests before ordering 100 units, then 270 after the declaration of war against Germany (only 64 aircraft were finally delivered until the capitulation in 1940). The French army names this "DB-7" aircraft: it quickly appears as a maneuverable, reliable and very fast attack bomber, whose control is almost like that of a fighter. Versatile, it allows to fulfill different missions like night bombing or day hunting actions: its baptism of fire takes place during the campaign of France in 1940.
The DB-7 was finally adopted by the United States Army and by England (which picked up the aircraft to be delivered to France, these copies being called "Boston" Mk I and Mk II). The United States nicknamed it "A-20" Havoc (meaning "devastation") and Boeing, in addition to Douglas, also began production of this bomber until September 1944.
He is engaged in all the theaters of operation of the Second World War, in the Pacific as well as in Europe. During the Battle of Normandy, he welcomed in particular the crews of the French forces of the 342 "Lorraine" squadron which scattered a curtain of smoke between the islands of Saint-Marcouf and the Pointe de Barfleur to hide the allied ships heading towards Utah Beach.
Several countries have manufactured this machine in addition to the United States, England and France: the Soviet Union orders up to 3,125 copies, as well as Belgium.
Douglas A-20 Havoc specification

Creator/User: United States of America
Denomination: Douglas A-20 (G) Havoc
Number built (1939-1944): 7 478
Length: 14,63 m
Wingspan: 18,69 m
Height: 5,36 m
Unloaded weight: 6,827 kg
Maximum weight: 12,40 kg
Maximum speed: 550 km/h
Operational range: 1,750 km
Ceiling:  7,800 m
Crew: 3 for version G (1 pilot, 2 gunners) – 4 for version C (1 pilot, 1 bomber and 2 gunners)
Armament: nine 12,7 mm Browning machine guns, carrying capacity of 908 kg of bombs
Powerplant: two Wright R-2600-A5B "Twin Cyclone" radial engines, 1,600 hp (1,200 kW) each
DDay-Overlord.com – Reproduction subject to authorization of the author –
Contact